The German air force is to reinstate its lapsed signals intelligence (SIGINT) capability from later this decade, after Berlin's BAAINBw procurement agency signed for the conversion of three Bombardier Global 6000 business jets.
The Persistent German Airborne Surveillance System – or Pegasus – procurement was confirmed on 29 June. Prime contractor Hensoldt will be responsible for providing sensors and mission equipment, with Lufthansa Technik to modify the Canadian-built aircraft for the intelligence-gathering role.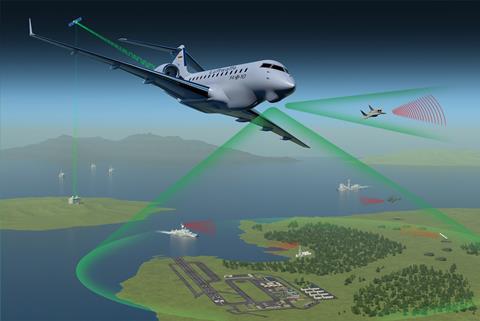 "The first system is scheduled to be deployed in 2026, and completion of deliveries in 2028," the BAAINBw says. Its order also includes related equipment and a training system.
Germany employed Dassault-Breguet Altantics for SIGINT tasks before retiring the type in June 2010. It had planned to replace these with Northrop Grumman EuroHawk unmanned air vehicles developed in conjunction with the then-EADS, but abandoned the acquisition in 2013 after significant investment and a prototype aircraft being produced and flown.
"This [SIGINT] skill gap, which has existed for 11 years, is closed with the contract now agreed," the BAAINBw says.
The German air force already operates a trio of Global 6000s for VIP transport duties, with these all approximately two years old, Cirium fleets data shows.