The Republic of Korea Air Force's (ROKAF) first Northrop Grumman RQ-4 Block 30 Global Hawk has arrived in South Korea.
The remotely piloted aircraft arrived at an air base near Sacheon during the morning of 23 December, according the official Yonhap news agency.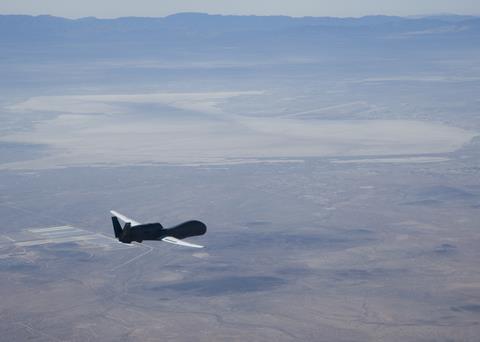 The following three examples on order will arrive in the first half of 2020. The report quotes an unnamed ROKAF officer as saying that the type's service entry has yet to be decided, and there will be no announcement when this takes place.
The lack of fanfare around the asset's arrival likely has to do with concerns about angering Seoul's volatile neighbour, North Korea. Seoul's increasingly advanced conventional capabilities are an area of concern for Pyongyang.
"The Block 30 Global Hawk carries sophisticated imaging and electronic signals sensors on missions that can exceed 32 hours," says the Northrop Grumman product card.
"Configured to carry an Enhanced Integrated Sensor Suite (EISS) and an Airborne Signals Intelligence Payload (ASIP), the Block 30 is extremely important for situational awareness and intelligence-gathering across huge areas of land."
South Korea selected the Global Hawk in 2011, and in December 2014 Northrop Grumman was awarded over $657 million by the US Department of Defense for the project. The sale was made under the auspices of the US government's Foreign Military Sales programme.
Seoul is placing an increasingly heavy emphasis on Intelligence, Surveillance, and Reconnaissance (ISR).
Existing requirements include a new Intelligence Surveillance Target Acquisition and Reconnaissance (ISTAR) programme and two additional airborne early warning & control (AEW&C) aircraft.
At October's ADEX defence show, Raytheon and Korean Airlines signed a deal to partner for the ISTAR deal. The pair will use a Bombardier Global 6500 business jet for their offer. Raytheon will provide "multiple intelligence" (Multi-INT) technologies. Korean Air will perform aircraft modification work should their eventual bid be successful.
Boeing and IAI could also be interested in the project.
Seoul also wants two AEW&C assets to add to its four Peace Eye 737s. Contenders could include Boeing with two more 737-based aircraft, Saab with the GlobalEye, and IAI with its CAEW (Conformal Airborne Early Warning & Control System) offering.