Greece has signed a deal to acquire 18 Rafale fighters, including a dozen examples which will be drawn from the French air force's current inventory and delivered from mid-2021.
Finalised in Athens on 25 January, the deal also includes the production of six new-build Rafales for the Greek air force, Dassault says. A separate award covers the provision of in-service support services over four and a half years, "maintaining the availability of equipment and systems at the highest level", it adds.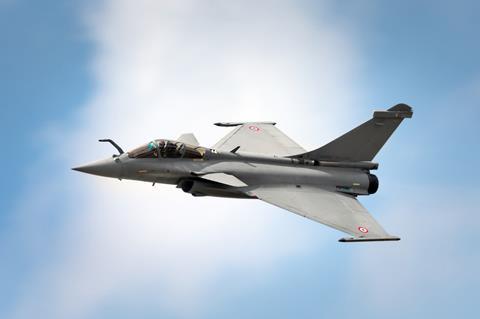 "To meet the urgent need of the Greek authorities, the deliveries of aircraft will begin in the summer of 2021 and will be spread over two years," the airframer says. It describes the 12 secondhand fighters included in the package as having been "recently in service with the French air force".
Guided weapons supplier MBDA says the Rafale's armament fit will "benefit from strong commonality with the [Dassault] Mirage 2000s and Mirage 2000-5s currently in service in the Hellenic Air Force". This will include SCALP-EG cruise missiles, AM39 Exocet anti-ship missiles and Mica short-range air-to-air missiles. "Additionally, MBDA will supply Meteor beyond-visual-range air-to-air missiles," it adds.
Greek defence minister Nikolaos Panagiotopoulos says the acquisition "will contribute to the further strengthening of the combat capability and deterrent power of the air force and the armed forces". He adds: "The firepower of the Greek air force will be multiplied. The special features of the Rafales, with advanced electronic [warfare] systems, in combination with their strategic weapons, make them an important factor of air superiority."
Dassault notes that the sales success continues a more than 45-year relationship with the Greek air force, which fielded its Mirage F1 in 1974, Mirage 2000 in 1985 and Mirage 2000-5 in 2000.
"The continuity of our presence in Greece, even in the most difficult times, is a token of the quality of this relationship," says Dassault chief executive Eric Trappier.
French defence minister Florence Parly, who also attended the signing ceremony, notes that this is the first Rafale export deal concluded with a NATO member. Dassault has previously supplied the multi-role type to Egypt, India and Qatar, along with the French air force and navy.
Cirium fleets data shows that the Greek air force's combat aircraft inventory includes a combined 42 Mirage 2000/-5s, the oldest of which have been in use for 32 years. The French air force, meanwhile, has 102 Rafale B/Cs in active service, aged between six and 16 years.