Greece has welcomed the first six of an eventual 18 Dassault Rafales to its Tanagra air base, following a ferry flight conducted from Istres in the south of France.
Flown to Tanagra by Hellenic air force (HAF) pilots on 19 January, the refurbished aircraft will used by the service's 332 Sqn. Their arrival and service introduction was marked during a ceremony attended by Greek Prime Minister Kyriakos Mitsotakis and defence minister Nikolaos Panagiotopoulos.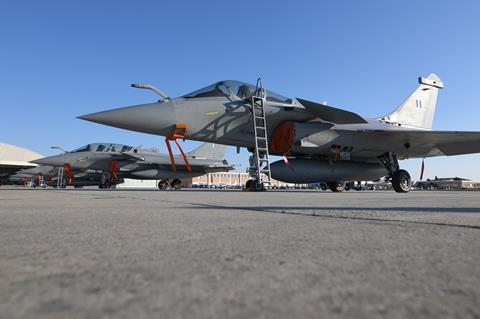 Dassault had handed over Athens' first two-seat Rafale B (aircraft 401) at Istres air base on 21 July 2021 in support of training activities, just six months after its signature of a deal to acquire 18 of the type.
"The delivery of the next HAF Rafale will start at the end of 2022, with the objective to have all the fleet deployed at Tanagra air base by the summer of 2023," Dassault says. The fleet will include 12 ex-French air force fighters and six new-build examples.
Dassault chief executive Eric Trappier says the delivery of the first batch of aircraft within one year of contract signature "is a testimony to the excellent relation between French and Greek authorities as well as between the Hellenic air force and Dassault Aviation teams".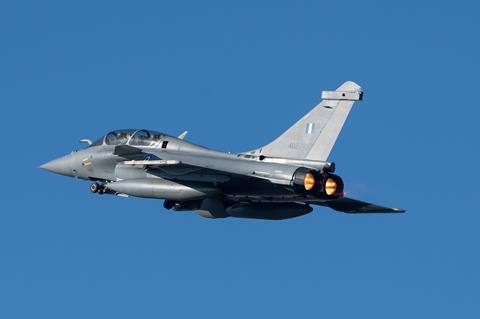 "We were able to meet the expectations of the Greek authorities in record time, who now have the Rafale on national territory to reinforce the protection and sovereignty of the country," Trappier says.
Images released by Dassault show that the first deliveries included B-model aircraft 401 and 402, and 413: a single-seat Rafale C.
Greece follows the French air force and navy, plus fellow international operators Egypt, India and Qatar in fielding the multi-role type.