Saab's Gripen E test fleet recently passed the combined 300 flight hour milestone, the company says, as the programme moves into more advanced territory.
"We're really now accelerating our test programme," says Eddy de la Motte, Saab's head of Gripen E/F business unit, adding: "we're now shifting focus to more testing of tactical systems and the sensors." He notes that the aircraft's Leonardo-supplied radar and infrared search and track equipment and Saab-developed electronic warfare suite are not only meeting expectations, but "performing better than expected".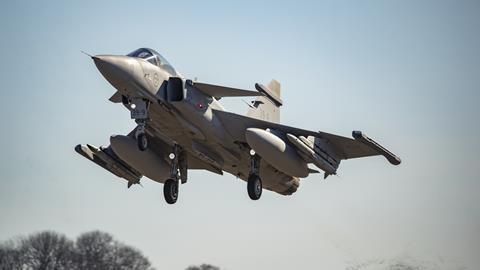 A total of six flight-test aircraft are now supporting the programme, including lead production examples for both the Swedish and Brazilian air forces. These were handed over late last year and are currently being used during a joint verification and validation campaign also involving Stockholm's FMV defence materiel administration.
"In the coming year we are going to be delivering the second and third aircraft to Sweden," de la Motte says. The nation's air force is to acquire 60 single-seat Gripen Es, with the type scheduled to join operational squadrons from 2023.
Brazil's first aircraft will be flown to the country later this year, for use at a national Gripen flight test centre.
"The two-seater Gripen will be an important addition to our product line, not only for Brazil, but also for other customers," de la Motte says. As well as being suitable for use as a trainer, the F-model could carry a mission commander or electronic warfare officer in its back seat, Saab believes.
Brazil's air force will receive eight Gripen Fs from 2023, as part of a 36-unit order.
"We are proceeding according to plan, and delivering to our customers' expectations," de la Motte said during Saab's annual Gripen seminar webcast on 26 March.
Separately, he says the company will submit a formal offer for Canada's future fighter requirement by the end of June, with its proposal based on the supply of 88 Gripen Es.
"It's a great offer that is intended to provide Canada not only with a NATO-operable aircraft system, but also long-term and high skilled jobs, as well as a made-in-Canada solution," he says.