The Hindustan Aeronautics (HAL) HJT-36 Sitara Intermediate Jet Trainer (IJT) has commenced spin testing following extensive work to rectify previous issues with this area of the flight envelope.
The HJT-36 has already cleared the full envelope in areas such as speed, altitude, and load factors, says HAL. In addition, drop tanks and bombs have been integrated.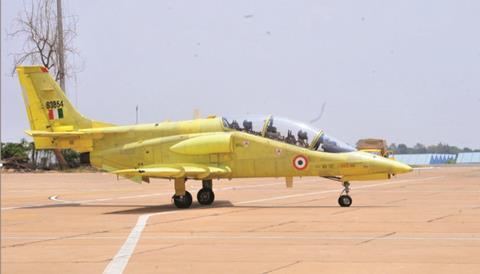 "For spin test, HAL redesigned the aircraft by moving the vertical tail aft and extending the rudder surface," says the company.
"These changes for ensuring a satisfactory spin behaviour required extensive redesign of the rear fuselage and the rudder."
Two aircraft have received the changes, and both have undergone flight tests to validate the new configuration. In addition, anti-spin parachutes have been fitted.
During the first spin test flight, the aircraft conducted one spin to the left and one to the right.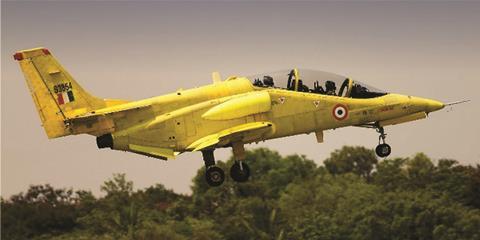 Deficiencies in the IJT's spin handling during 2016 caused a three-year delay in the programme during which redesign work took place. The aircraft only took to the air again in April 2019.
The IJT has had a long, troubled history since its commencement in 1999, with the most recent spin issue capping production. Prior to this, in 2014, HAL called for outside help to reduce the aircraft's weight.
In addition, prototypes suffered accidents in 2007 and 2008, one of which occurred at the 2007 instalment of the Aero India show in Bengaluru.
New Delhi apparently has a requirement for an IJT with a light attack capability, as evidenced by a 2014 request for information issued to international vendors, but its interest in the HJT-36 is not clear.
In the Indian air force, the IJT occupies a spot between the basic trainer and advanced jet trainer.