Hindustan Aeronautics (HAL) has signed a $716 million order with GE Aviation covering 99 F404-IN20 engines to power its Tejas Mk-1 Light Combat Aircraft (LCA).
The GE deal follows a contract earlier this year with the Indian air force for 83 LCAs, says HAL.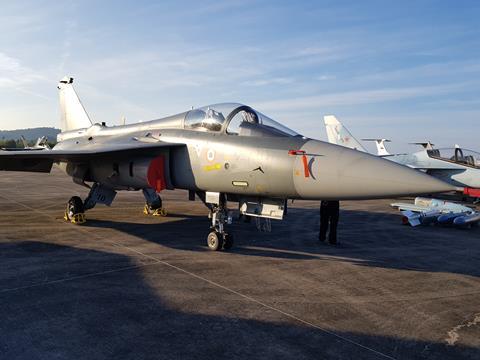 HAL Chairman R Madhavan says this is the largest deal HAL has ever signed related to the LCA, and it wants to work with GE both to support the export potential of the single-engined type, and also to support the supply chain for the F404.
"The F404 family of engines has proven itself in operations all over the world and we have committed to deliver all 99 engines and support services by 2029," says GE Aviation vice-president Chris Cyr.
HAL adds that it looks forward to producing the more powerful F414 engine in India. The F414 will power the developmental Tejas Mk-2, which features a number of improvements over the original fighter.
"The highest thrust variant of the F404 family, the F404-GE-IN20 incorporates GE's latest hot section materials and technologies as well as FADEC [full authority digital engine control] for reliable power and outstanding operational characteristics," says HAL. "F404-family engines have logged more than 14 million engine flight hours, and powered 15 different production and prototype aircraft."
In January, New Delhi signed an order for 83 Tejas Mk-1A fighters, covering 73 single-seat examples and 10 two-seat trainers.
The deal followed previous orders totalling 40 aircraft. In 2006 the air force ordered 20 Mk-1s in Initial Operational Clearance (IOC) configuration, and in 2010 signed for 20 Mk-1s in a Final Operational Clearance (FOC) standard.
The Tejas Mk-1A will feature an Elta Systems EL/M-2052 active electronically scanned array radar and MBDA's ASRAAM short-range air-to-air missile, a unified electronic warfare suite, an onboard oxygen generation system, upgraded avionics, and a Cobham in-flight refuelling probe. The cockpit displays will also be upgraded and new indigenous weapons integrated.