Hindustan Aeronautics (HAL) has started airframe fatigue testing work for the Tejas Mk1 Light Combat Aircraft (LCA).
The facility is located at HAL's Ground Test Centre in Bengaluru, the city where it produces the Tejas, says the company.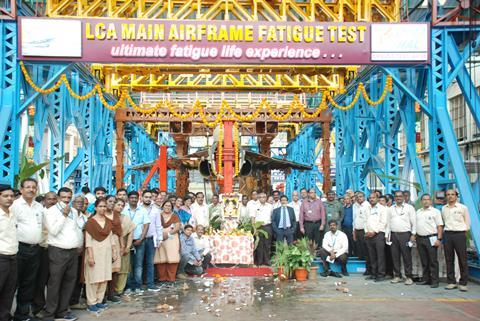 "Despite the setbacks due to the Covid-19 pandemic, HAL has been able to commence the MAFT [Main Airframe Fatigue Test] testing within the timelines planned," says HAL director Arup Chatterjee.
HAL adds that static tests of the Tejas airframe are key ensuring a full life for the Tejas LCA fleet. Military airworthiness requirements require that the airframe be shown capable of withstanding four-times the expected service life.
The tests will be carried over eight to nine years.
In January 2021, New Delhi ordered 83 Tejas Mk1s, covering 73 single-seat Mk1As and 10 two-seat trainers. In August 2021, HAL followed this up by ordering 99 GE Aviation F404-IN20 engines.
This deal followed previous orders totalling 40 aircraft. In 2006 the air force ordered 20 Mk1s in Initial Operational Clearance configuration, and in 2010 signed for 20 Mk1s in a Final Operational Clearance standard.
The Tejas Mk1A features an Elta Systems EL/M-2052 active electronically scanned array radar and MBDA's ASRAAM short-range air-to-air missile, a unified electronic warfare suite, an onboard oxygen generation system, upgraded avionics, and a Cobham in-flight refuelling probe. The type also features updated cockpit displays and the integration of new indigenous weapons.