GE Aerospace and Hindustan Aeronautics (HAL) have signed a memorandum of understanding (MoU) for the potential production of the F414 fighter engine in India.
The MoU was signed during a state visit to the USA by Indian Prime Minister Narendra Modi, according to GE Aerospace.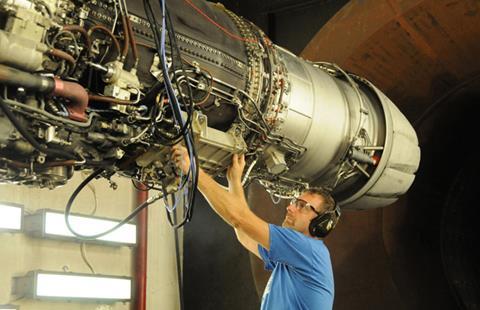 The agreement could lead to the eventual joint production of the F414 in India. GE Aerospace is working with the US government to obtain the required export authorisations.
For some weeks there have been media reports, quoting sources, that F414 production would be offered during Modi's USA Visit. Modi's 'Make in India' drive to boost indigenous production has been a hallmark of his time as India's leader.
The US government, for its part, is eager to court India as a counter to an increasingly aggressive China.
The F414 is the powerplant for India's developmental Light Combat Aircraft (LCA) Mk2 single-engined fighter. GE's F404 powers the LCA Mk1, which is in service with the Indian air force.
So far, 75 F404s have been delivered for the LCA Mk1A, with an additional 99 engines on order. In addition, eight F414s have been delivered as part of the LCA Mk2 programme. The F414-INS6 is also the engine selected for the development, testing, and certification of India's future twin-engined fighter, the Advanced Medium Combat Aircraft.
GE adds that over 1,600 F414s have been produced. The 22,000lb (97.9kN) engine also powers the Boeing F/A-18E/F Super Hornet, EA-18G Growler, Saab Gripen E, and Korea Aerospace Industries KF-21.