Hindustan Aeronautics (HAL) plans to open an office in Kuala Lumpur to support its bid for Malaysia's Fighter Lead-in Trainer (FLIT) competition.
In October 2021 HAL says it submitted a proposal for the 18-aircraft FLIT requirement, proposing its Tejas Light Combat Aircraft.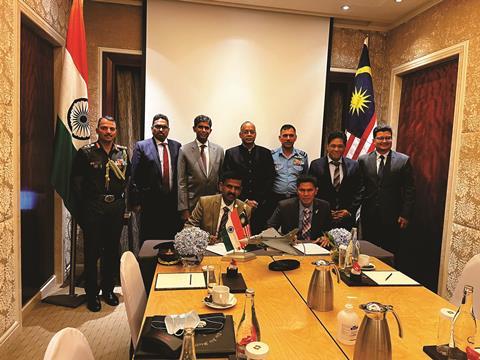 "The final winner of the tender is expected to be declared soon by Malaysian authorities," says HAL. "LCA Tejas stands a fair chance of selection in the bid as it meets all the parameters sought by the RMAF."
Other contenders for the deal include the Korea Aerospace Industries FA-50, Leonardo M-346, and Turkish Aerospace Industries Hurjet.
BAE Systems, which supplied Malaysia's fleet of Hawk 108 trainers and Hawk 208 attack jets, has also said that capability can be added to its aircraft through various upgrades.
For the KL office, the head of HAL's LCA programme, Ravi K, signed a memorandum of understanding with Mohammed Husairi of Malaysian company Forte Drus. According to its web site Forte Drus specialises in representing foreign companies seeking to do business with Malaysia's military.
In partnership with Safran, it also provides support for the Sigma95 NAA inertial navigation system that equips Royal Malaysian Air Force (RMAF) Su-30MKMs. In addition, it provides support for the navy's Scorpene submarines and the army's PT-91 main battle tank.
HAL also hopes to market itself for other Malaysian requirements, namely upgrade and support work for RMAF Sukhoi Su-30MKMs, as well as possible upgrade work for the country's BAE Systems Hawk fleet.
HAL adds that the RMAF's Su-30MKM fleet "is facing low serviceability issues" owing to Russia's invasion of Ukraine. Given that HAL produces SU-30MKIs at its Nashik factory, it feels it is well placed to provide support for the RMAF Sukhoi fleet.
"HAL can support RMAF for upgrading their Hawk fleet as well," it adds. The company produces Hawks under license in Bengaluru.
In 2017, the company rolled out an upgraded version of the Hawk 132, named the Hawk i. The updated aircraft featured improved avionics, an embedded virtual training system, secure voice communications and a data link capability.
HAL adds that its other fixed and rotary wing platforms could also find a market in the country. It adds that the KL office will also market HAL's capabilities to the broader Southeast Asian region.