New Delhi has approved a plan to acquire 12 additional Sukhoi Su-30MKI fighters to be built by Hindustan Aeronautics (HAL) at its Nashik factory.
The country's Defence Acquisition Council (DAC) approved the plan along with other military purchases, according to India's defence ministry.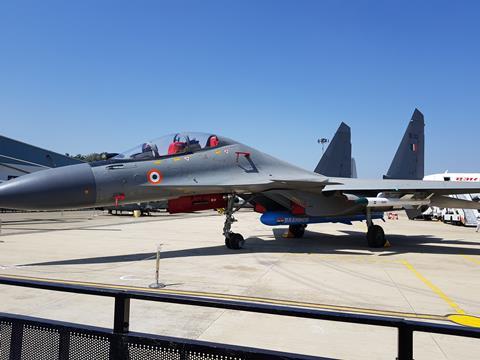 HAL had been awaiting the 12-aircraft order following the 2021 completion of a 222-aircraft Su-30MKI production run at Nashik.
The factory also has a role in sustainment and the overhauling of India's Su-30MKIs. In 2021 an upgrade plan was in the works for a large number of Su-30MKIs, which would see the installation of a new radar, weapons control system, mission computer, communications suite and various new air-to-air and air-ground munitions.
Media reports in India have suggested that the upgrade programme is still possible, but Russia's participation is open to question given Moscow's 2022 invasion of Ukraine. Russian industry is likely preoccupied with supporting the war, and a major Indian-Russian effort to upgrade the jets may well raise concerns in the west.
The DAC has also cleared an avionics upgrade for an unspecified number of HAL-produced Do-228s aimed at improving "the accuracy and reliability for operations."
Cirium fleets data indicates there are 109 HAL-produced Do-228s in service with several operators in India, with another 10 on order. The largest operator is the air force with 49 examples, followed by the coast guard with 33.
The DAC has also cleared the acquisition of Dhruvastra ground-attack missiles for use by the locally-produced Advanced Light Helicopter.
Corrected: A previous version of this story inaccurately stated the number of Do-228s in service in India, and the Indian army does not operate the type.