Hindustan Aeronautics (HAL) is showcasing a new Hindustan Lead in Fighter Trainer (HLFT-42) concept at Aero India, which is optimised to train pilots for future twin-engined fighters of the Indian air force.
HAL states that the advanced trainer concept will feature a fly-by-wire control system, an active electronically scanned array radar, an electronic warfare suite and a nose-mounted infrared search and track sensor.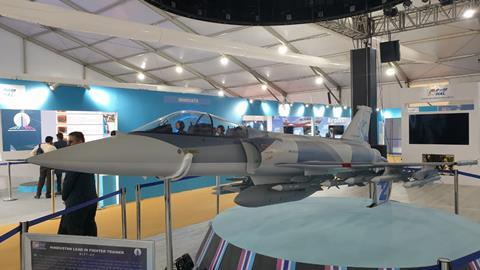 HAL awaits government clearance to proceed with the programme.
HAL test pilot Group Captain H.V. Thakur (Retired) tells FlightGlobal that work on the HLFT-42 began in 2021, with the intent to deliver a modern lead-in fighter trainer.
Thakur estimates a future air force requirement for 100 examples and a future navy requirement for 25-30.
Both the Indian air force and navy currently operate the BAE Systems Hawk 132 in the advanced jet trainer role.
Thakur says an air force need will emerge post-2030 to train pilots for the indigenously developed 4.5-generation Advanced Medium Combat Aircraft (AMCA). The AMCA is in development and service entry is expected in 2035.
HAL already offers a Tejas Mk1 trainer, but Thakur says the HLFT-42 will offer performance levels between the upcoming Tejas Mk2 and AMCA, stating that the air force has a great appetite for high performance fighter jets, hence HAL's offer of a bigger, faster and more capable lead-in fighter trainer designed from the ground up.
Thakur says the HLFT-42 is inspired by the HF-24 Marut. Designed by Dr. Kurt Tank of Focke-Wulf fame, the HF-24 first flew in 1961.
The rear section of the HLFT-42 bears some semblance to the legacy jet, as does the wing section. If the HLFT-42 transitions to a design and development programme, much of this may change significantly.
The scale model of the HLFT-42 on display is armed with a total of 10 indigenously developed Astra beyond-visual-range air-to-air missiles, and two wingtip mounted MBDA ASRAAMs. It also has a centre drop tank.
Thakur said this illustrative payload is based on the air force's needs. In any future conflict, such an aircraft will have to be as combat capable as frontline fighters. He describes the large missile payload as "realistic".