German defence electronics company Hensoldt is inviting contributions from start-ups in support of its role in the French-German-Spanish Future Combat Air System (FCAS) programme.
Working with innovation specialist Starburst, Hensoldt Ventures' "FCAS accelerator" effort "invites start-ups from NATO and allied countries to propose ideas for highly disruptive sensors", the company announced on 22 August.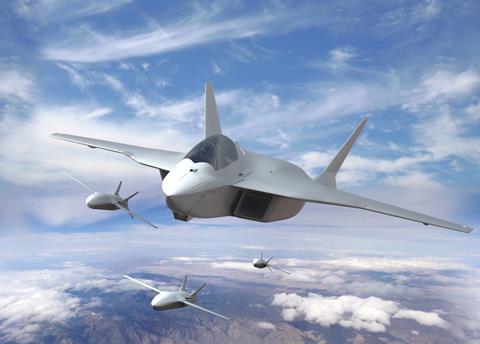 "The objective of the accelerator is to create an ecosystem targeted to small and medium-sized enterprises as well as start-ups to develop dual-use and defence applications for FCAS," Hensoldt says.
Five technology areas have been identified for the work: disruptive sensors; enabling AI (artificial intelligence); 3D-printed electronics; electronic materials and components; and innovative RF (radio frequency) technologies.
"Start-ups of all backgrounds and industries are invited to apply," says Hensoldt Ventures head Moritz Pichler, with responses due for submission by 10 September.
"Dual-use technologies are key enablers to bring innovation to the defence industry," says Starburst Germany managing director Lukas Oberhofer. "This programme will connect non-traditional players with Hensoldt and provide a steered entry into FCAS, jointly maturing technology and fuelling growth."
Selected parties will be provided with "tools and guidance to navigate the commercial defence ecosystem and support them in rapidly scaling up", Hensoldt says. They also will be invited to participate in a "bootcamp" activity, "to further develop their solutions until the end of the year".
"The most promising solutions will be selected for succeeding implementation projects within FCAS," it says.
Hensoldt in February 2023 received a roughly €100 million ($108 million) contract as part of Germany's Future Combat Mission System industry consortium, which also includes Diehl Defence, ESG Elektroniksystem-und Logistik and Rohde & Schwarz. Its award covers "the development of demonstrators in the core competence fields of radar, reconnaissance and self-protection electronics, optronics and also the overarching networking of sensor technology".
The FCAS programme's radar and electronic systems element also involves French and Spanish representation, respectively led by Thales and Indra.
Currently in its Phase 1B technology development stage, the European FCAS programme seeks to field a suite of advanced capabilities from 2040. This will include a New Generation Fighter, unmanned air vehicles and remote carrier vehicles, plus a combat cloud network.
FlightGlobal's newly published review of the Top 100 aerospace companies during the 2022 financial year places Hensoldt, in which Italy's Leonardo holds a 25% stake, in 88th position.

Craig Hoyle joined Flight International in 2003, and has edited the now monthly title since 2015. He has reported on the UK, European and international military aviation sector for more than 25 years, and produces our annual World Air Forces directory.
View full Profile