A series of images from Chinese social media suggest that the Xian KJ-600 airborne early warning and control (AEW&C) aircraft flew in late August, marking a milestone in Beijing's blue water navy ambitions.
US Navy (USN) officers serving aboard aircraft carriers are fond of saying that the first aircraft they launch when underway is not a fighter, but the Northrop Grumman E-2 Hawkeye AEW&C platform.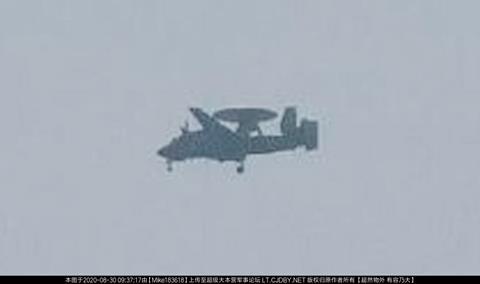 With a large radar dish above a somewhat ungainly fuselage, the E-2 plays a role of paramount importance, providing high altitude radar coverage that would be impossible for a ship or a helicopter. The Hawkeye also serves as a vital command and control node for the USN.
The development of a similar carrier-borne AEW&C capability is integral to Beijing's ambitions of developing a blue water navy centred on large catapult assisted take-off but arrested recovery, or CATOBAR, aircraft carriers.
In late August these ambitions seemed to take a step forward, when photographs appeared on Chinese social media sites that apparently showed the KJ-600 in flight.
Prior to this, China observers had relied on grainy images shot at long distances, overhead satellite images, and artist impressions of the secretive type. These suggested it is virtually identical to the E-2, including the Hawkeye's distinctive tail arrangement with four vertical stabilisers.
China's nationalistic Global Times newspaper was quick to trumpet the KJ-600's first flight, but based its reporting entirely on western news outlets. Mainstream Chinese state publications, such as the China Daily and Xinhua, ignored the news altogether.
In the subsequent weeks no further images of an airborne KJ-600 have appeared.
Defence forums focused on Chinese media had predicted a first flight of the KJ-600 since at least 2019, so the emergence of images in late August is consistent with this timeline. The KJ-600 also follows an earlier flying testbed programme, the JZY-01.
While Beijing has been characteristically secretive about the aircraft's evolution, there is more clarity about what is arguably the platform's most sensitive capability, its radar array.
At the 2018 Airshow China in Zhuhai, CETC had an exhibit about its KLC-7 active electronically scanned array radar. A promotional video showed a twin-turboprop aircraft – presumably the KJ-600 – direct an engagement against a group of enemy fighters that resembled Boeing F/A-18E/F Super Hornets.
The KLC-7, says CETC, can track targets at all altitudes, including sea-skimming cruise missiles and ships. Similar to how the Hawkeye has been sold to US allies such as France, Japan and Taiwan, it is possible that China could see export potential for the KJ-600.
In addition to the KJ-600, artist's impressions have suggested that the type may have a carrier on-board delivery (COD) variant, serving a mission similar to the Hawkeye's COD variant, the C-2 Greyhound.
Meanwhile, China's third aircraft carrier, possibly designated Type 003, is under construction in Jiangnan shipyard. Unlike China's first two carriers, the CNS Liaoning and Shandong, it will be equipped with an electromagnetic catapult, similar to those that equip the latest USN carrier, the USS Gerald Ford.
The vessel's estimated displacement will be 80,000-85,000t. By using catapults, as opposed to the ski-jump ramp used on Beijing's existing pair of carriers, it will be able to launch a broader range of aircraft, including AEW&C types. In 2019, the Center for Strategic & International Studies suggested it would enter service in 2022.

Greg Waldron is the Asia Managing Editor of FlightGlobal, responsible for the team's airline, aerospace, and defence coverage across the region. He has worked at the company since 2009. In the airline space, Waldron has conducted dozens of interviews with airline leaders in the Asia-Pacific. He also covers areas such as MRO and safety. On the defence beat, Waldron has written extensively about the rise of Chinese airpower, as well as broader airpower developments around the region, such as indigenous fighter programmes, and regional acquisitions of foreign equipment. In addition, Waldron writes about commercial helicopters in the region and business aviation. Waldron worked has a freelance journalist with his work appearing in several business publications.
View full Profile