Honeywell has been demonstrating the military version of its JetWave satellite communications system onboard its Boeing 757 demonstrator at the World Defense Show in Riyadh, as it bids for its first export customer.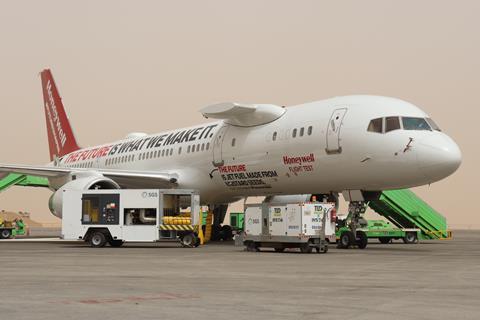 JetWave MCX is used by the United States Air Force Special Operations Command (AFSOC) on Lockheed Martin C-130s.
Honeywell also offers JetWave to business aviation customers, but the military variant has the advantage of being able to switch signl from different satellite bands instantaneously in a contested environment, says John Guasto, vice-president defence and space international.
Honeywell is able to simulate a jamming scenario on board the aircraft, he says.
The Phoenix-based company uses its 757 both as an engine and avionics testbed, and a customer demonstrator around the world. After a four-day stint in Riyadh, the aircraft left WDS on 7 March for London.
On the 757, Honeywell was also demonstrating its RDR-4000 weather radar system, which it is proposing to the Royal Saudi Air Force for its C-130 and Boeing 707-based aircraft fleets.