The UK Royal Air Force's (RAF's) Tranche 3 Eurofighter Typhoons will begin operating with an advanced active electronically scanned array (AESA) radar by 2030, with the long-running project making its latest contractual advance on 4 July.
Worth £870 million ($1.1 billion) and placed with project lead BAE Systems, the five-year award "will see further development of technology and integration work on the [Leonardo UK] ECRS Mk2 radar", the airframer says.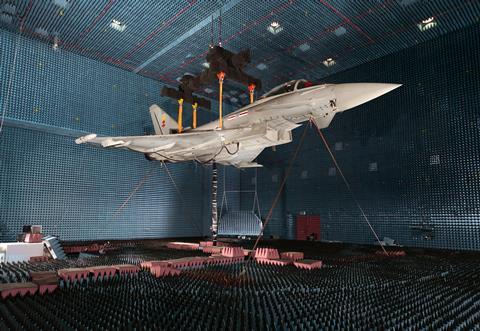 The new programme phase also will involve the production of 12 radar sets to support test activities to be conducted later this decade, says Lyndon Hoyle, head of Typhoon delivery team at the UK's Defence Equipment & Support organisation.
The ECRS Mk2 programme's current lone prototype sensor is now installed in an integrated test facility building at BAE's Warton site in Lancashire, from where it is gathering data by tracking commercial aircraft operating from Liverpool and Manchester airports, plus military traffic.
"Next year we are aiming to take this [prototype] radar and integrate it into a test platform and fly it," Hoyle says. That activity will involve single-seat aircraft BS116 (ZK355), which James Glazebrook, BAE's deputy director – Europe, says is being prepared to have the array installed later this year.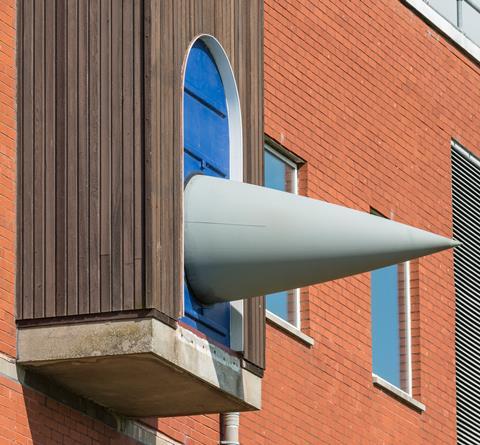 "In parallel, there is software and hardware design and development taking place for the production system," Hoyle said of the new deal during a media facility at Warton to coincide with the contract announcement.
"Around 2028 we expect to have a production radar on an aircraft doing flight-test, and then will start getting on with integrating it and turning it into a capability" for the operational fleet, he says.
"Having staffed the full business case… I can confirm that the IOC [initial operating capability] approved is the end of the decade," he tells FlightGlobal. While the Ministry of Defence (MoD) had last year cited an objective of 2028 for this milestone, he notes: "What we are aiming to do is deliver this as soon as we practicably can," adding: "this is a technology-complex programme.
"There have been no pauses, no deliberate decisions to slow anything down – quite the opposite," Hoyle says. "We are getting on with this contract."
The UK's plans call for 40 Tranche 3 jets to be equipped with the ECRS Mk2 radar, and it will have the option to potentially also modify some Tranche 2 examples with the same technology. A contract for the production-standard radars is likely to be approved during 2025, following flight-testing of the prototype.
Several of the development and test-phase sensors that will be produced under the current contract will be converted to the final production standard for frontline use, Hoyle confirms.
He notes that the UK has already spent £800 million over a 10-year period in support of its future radar technology, which will also provide the Typhoon fleet with a valuable electronic warfare (EW) and electronic attack capability.
Leonardo UK has for the last several years performed development work on the ECRS Mk2 at its Edinburgh and Luton sites, which have respectively focused on the design's AESA radar and EW elements.
"There has been a lot of work over the last couple of years to get the two parts of the sensor integrated coherently," says Tim Bungey, Leonardo UK's chief engineer for the system.
"The introduction of the EW capability is the real game-changer in terms of advancing the UK's capability," he adds, while noting: "already the prototype system has proved its worth in terms of teasing out some of the wrinkles."
"We have set a demanding set of requirements, based on what we assess the Royal Air Force's capability mix in combat air, including the [Lockheed Martin] F-35 and Typhoon will be out to at least 2040, [versus] the likely threat environment," says Wing Commander David Boulton, the service's ECRS Mk2 capability delivery director.
"The testing that has been done before we put this system in an aircraft is reaping benefits into the programme," Boulton says. Referring to the new electronic attack functionality, he adds: "From what we have seen so far, we have high confidence that this system is going to be able to deliver."
In addition to the RAF's requirement, the ECRS Mk2 is also of interest to fellow Typhoon operator Saudi Arabia, while Italy also has yet to select an AESA solution for part of its Eurofighter fleet.
The MoD in July 2022 confirmed plans to invest a total of £2.35 billion on technology advances for the Typhoon, including as part of the four-nation Eurofighter programme's P4E package of enhancements.
In addition to the radar integration task, the P4E update also will for the UK include elements "such as upgrades to the DASS [defensive aids subsystem] and task-based management", Hoyle says.
To be finalised between Germany, Italy, Spain and the UK, the P4E programme is likely to be the subject of a contract award in late 2025 or early 2026, he indicates.

Craig Hoyle joined Flight International in 2003, and has edited the now monthly title since 2015. He has reported on the UK, European and international military aviation sector for more than 25 years, and produces our annual World Air Forces directory.
View full Profile