As passenger numbers plummeted and airlines grounded the bulk of their fleets at the height of the coronavirus outbreak, military operators around the world stepped in to support national efforts to fight the disease's spread.
Air forces swiftly employed medium, tactical and strategic transports to perform medical evacuation and repatriation flights, and also ferry the huge volumes of personal protective equipment (PPE) so critically needed to protect health workers.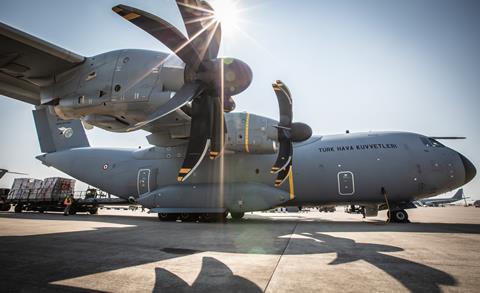 The ongoing crisis in particular has marked a coming of age for the Airbus Defence & Space A400M, with counter-Covid-19 flights having been conducted by all its current operators: France, Germany, Malaysia, Spain, Turkey and the UK.
Lieutenant Colonel Jose Garcia Paniagua, operations group commander at the Spanish air force's Zaragoza-based 31 Wing, says conducting two PPE missions to China served as a "stress test" for the service's new airlifter.
Each roughly 35h-duration return mission to Shanghai involved having two crews on each aircraft, with en route stops in Yekaterinburg, Russia on the first, amended to Riga, Latvia for the second, prior to delivering supplies to Torrejon air base near Madrid. Strict regulations meant Spanish personnel made an overnight stop in China aboard what they nicknamed the "Atlas Hotel".
Madrid currently has eight A400Ms operating with its 311 Sqn, alongside 10 aged Lockheed Martin C-130Hs flown by 312 Sqn.
Paniagua notes that the air force received its first A400M in late 2016, but says a slow delivery rate, the late arrival of key tactical capabilities and the parallel use of its remaining Hercules have made the introduction "not a very easy moment".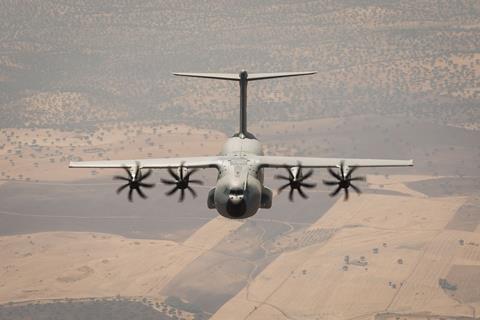 "That is a lot of time between the first one and to have enough numbers to operate normally," he says. However, "Right now, we are starting to efficiently use the A400M. We have transitioned from an analogue aircraft to fly 'computers with wings'," he quips.
"We have proficiency in terms of logistical missions and air-to-air-refuelling, and we are working very hard to have all the tactical capabilities, as soon as Airbus gives us new aircraft." Pending advances include full clearance to operate from unprepared landing strips, airdrop supplies and use defensive aids system equipment.
Paniagua expects 31 Wing to receive its ninth A400M later in 2020, with this to be followed at a rate of around three per year until it reaches full strength of 14 aircraft.
Meanwhile, 332 Sqn's Hercules are due to retire in December 2020. "When we decommission the C-130, we should be able to perform all the missions that it was performing… [but with] a bigger range, more payload and less reaction time," he says.
Other recent Spanish A400M flights have included transporting Airbus Helicopters Cougar rotorcraft to and from Iraq, and recovering a damaged Boeing F-18 from the Canary Islands to the Spanish mainland. 311 Sqn also returned personnel from Nellis AFB in Nevada after the cancellation of a Red Flag exercise, and performed a medevac mission from Djibouti. This involved dividing the cargo hold into three areas, respectively for its crew, one coronavirus patient and those who had worked in contact with the individual.
On 4 June detailing further operations performed by A400M customers during the coronavirus response, Airbus Military Aircraft Services head Stephan Miegel said the company began making contingency plans during February. "We started to move spares and consumables from central warehouses to ones in the different nations. By mid-March we were as prepared as you can be for such a pandemic," he says.
Airbus also supported a swift certification activity which enabled the French air force – which lacked a medevac fit for its Atlas fleet – to employ equipment already cleared for use aboard its A330 Phenix tanker/transports. Miegel says France's A400M fleet has been operating at 30% above its normal monthly rate, including missions flown to the Antilles and Tahiti.
Also amid the crisis, Paris took delivery of its 17th example of the transport, via an electronic acceptance process.
Germany, meanwhile, employed the type and A310 transports to repatriate coronavirus patients from France. Its air force now has two A400Ms available with equipment capable of providing intensive care-standard support for up to six patients.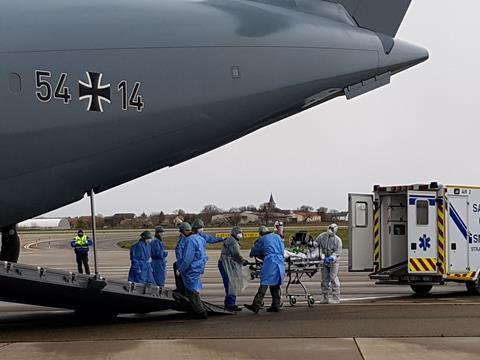 The European programme's lone export customer, Malaysia, called on its four-strong fleet to deliver medicines and PPE to Sabah and Sarawak.
Turkish air force A400Ms have also been heavily employed, from in late January repatriating Turkish and other nationals from Wuhan – the source of the outbreak – to transporting medical supplies to several Balkan-region nations, the UK and the USA.
UK Royal Air Force activities included making two high-profile flights from Turkey with PPE supplies early in the crisis. Its assets also transported medical equipment to the Falkland Islands, repatriated personnel and made medevac flights to locations including Ascension Island and the Turks and Caicos islands. "Since 13 March we were able to deliver, together with the Royal Air Force, 100% of the task lines that were requested," Miegel says.
Miegel points to the scale of the operating challenges which Airbus faced at the height of the pandemic, which including separating workers into 'red' and 'blue' shifts to safeguard against spread of the virus. At one point, around 80% of his unit's engineering personnel were working from home due to lockdown restrictions.
"Our customers continue to operate – and so do we," Miegel says. "These operations show the versatility of the aircraft," he adds.