Dealing with the day-to-day restrictions resulting from the coronavirus pandemic has been a challenge for all in 2020, but how have such barriers to normal life affected those supporting crucial military tasks?
For an insight into some of the operational adjustments that have been required, FlightGlobal spoke to General Arvind Badrinath, director of flight testing for France's DGA defence procurement agency, about its activities this year.
"In military life, things cannot be interrupted," Badrinath says, noting that despite the pandemic, the organisation simply could not step back from conducting some of its most important duties.
"Defence of the French airspace has to performed every day and night, Covid[-19] or no Covid," he says. As an example, his personnel are required to conduct tasks such as approving updates to the air force's Boeing E-3F airborne warning and control system (AWACS) aircraft.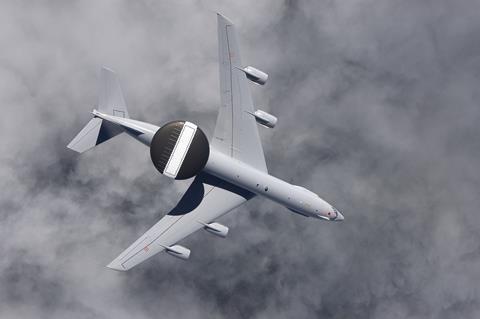 "You cannot wait for one more week to complete the acceptance test of an AWACS," he notes.
Supporting France's nuclear deterrent capability is another activity which cannot undergo any form of furlough. In June, this involved the flight test organisation providing airborne range support during a test firing of the French navy's new submarine-launched M51 ballistic missile.
Equally, Badrinath says the DGA's focus on performing "a huge amount of preparation for the overseas forces" remained in place.
"The army, navy and air force who are on the ground anywhere in the world need specific equipment – some that you cannot test with your computer back at home," he says. In the case of fighter-carried laser designation and reconnaissance pods, "you need to test on a real aircraft making 5g manoeuvres, and having real vibrations, and checking that they work the right way".
Badrinath says that as the DGA started to realise the coronavirus outbreak's likely severity at the end of February, the flight test organisation "started preparing to maintain the continuity of our actions".
"The missions did not really change. However, the way to achieve the missions changed completely, with a high priority to settle protective measures for our personnel – that was the main driver for this year," he says.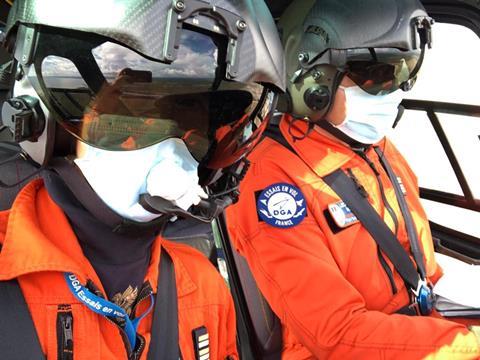 "Some of the activities had to be deferred by maybe two months," he says, and non-essential events – such as hosting visits involving students – were cancelled.
"From March onwards, I had plenty of flight-test engineers and test pilots everywhere in France," he says. This ensured the DGA's ability to continue assessing updates to existing assets, along with the task of accepting new aircraft for the nation's military. "We needed to perform our every day job – like checking the integration and qualification of a system like the IFF [identification friend or foe] onboard our fleet."
From 20-31 July, DGA personnel were involved in trials which saw an Airbus Defence & Space A400M pass fuel to an Airbus Helicopters H225 Caracal in flight for the first time. Additional air-to-air refuelling trials involved a French air force Lockheed Martin KC-130J tanker working with a C160G Gabriel electronic intelligence aircraft. Each of these activities involved around 70 personnel, Badrinath notes.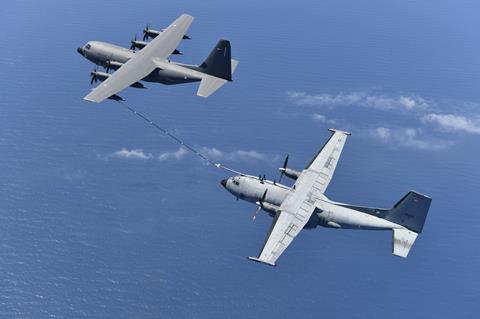 But in addition to these ordinary duties, personnel also were called on the support French President Emmanuel Macron's "Operation Resilient" initiative, which sought means of safely transporting coronavirus-affected patients by air.
This required swift modifications to the air force's A400M and A330 Phenix tanker/transports – enabling them to operate with intensive care unit (ICU)-standard medical equipment aboard. The service's Caracals and French army Airbus Helicopters Cougar rotorcraft also underwent similar updates.
The helicopters were adapted to enable them to conduct transfer flights lasting over 2h, for example to move patients from France to Germany, or transport others between regions of France itself. Badrinath notes that while dedicated emergency medical services helicopters have ICU-standard equipment, they lack the endurance and onboard electrical generation capability for extended operations.
"It forced us to modify the A400M, NH90 and Cougar in a very fast way," he says.
"For all these projects that were performed by the armed forces with our support, our expertise was necessary to check compatibility and be sure that the modification was airworthy."
The need for test pilots and flight-test engineers to work safely also required the DGA to assess the effectiveness of various masks to be worn in the cockpit. This process involved checking their "filtration and breathability", Badrinath notes, and also their suitability for use with microphones.
"Protection measures had to be minimum risk for all our personnel," he says. For example, "at 10,000ft in a helicopter without oxygen, you could get hypoxia if the mask has poor breathability". This meant adopting new procedures to restrict the amount of time spent operating under such conditions.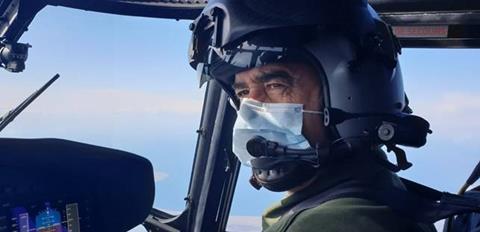 Cleaning measures were also investigated, to determine which products could be used without risking affecting the airworthiness of an aircraft. Gloves ordinarily worn by Dassault Rafale fighter pilots were also employed, due to their suitability for use with touchscreen displays.
Overseas deployments were also performed, for example sending a team to Spain ahead of the transfer of a new Phenix tanker from Getafe near Madrid. And personnel also supported the introduction of the French air force's two Beechcraft King Air 350ER surveillance aircraft during 2020.
Some personnel were required to work from home during part of the pandemic, for example preparing for future testing or innovative new test means.
"When you have a crisis like this, you always have some people within the organisation who have good ideas to solve everyday life problems," Badrinath says. In the DGA's case, this included engineering personnel identifying means of boosting the protection available to medical staff at the height of the pandemic.