The UK Royal Air Force (RAF) has dramatically ramped up operating hours on its Eurofighter Typhoon fleet since Russia invaded Ukraine in February 2022, the service says.
"2022 was an unprecedented year for the number of hours that we flew on operations," says RAF Typhoon programme director Group Captain Matt D'Aubyn. This included combat activities in the Middle East, along with air policing duties performed in the UK and the Falkland Islands, plus the Baltic States and eastern Europe.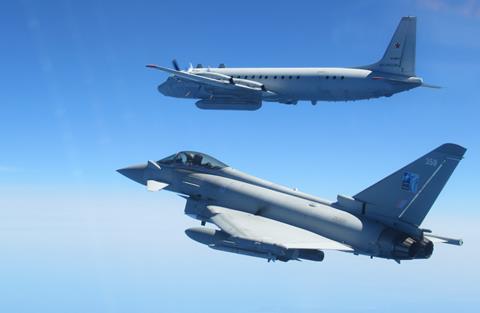 Enhanced in-service support measures delivered via the service's Tytan programme with BAE Systems mean "the number of aircraft on ground has been driven down, through resilience and flexibility work on spares and in the supply chain," D'Aubyn said at the Royal International Air Tattoo (RIAT) at RAF Fairford in Gloucestershire on 14 July.
"A year ago, we [the UK] increased our flying rate by 50%, so I had to increase our servicing rate by at least 50%, which was a significant challenge," reveals Jez Milne, BAE's UK Typhoon support delivery director. "In the space of a few weeks we inserted an extra 12,000 flying hours into the bank. Collectively we fuelled the fight," he says, with a total of 21,112h having been accumulated across the entire fleet within the calendar year.
BAE is contracted to enable a total of 179,000 flying hours by the RAF's Typhoon force over the 10-year term of the Tytan deal. This requires the company to oversee fleet management and conduct so-called depth maintenance on 30-40 aircraft per year, with each taking between three and nine months to complete.

Craig Hoyle joined Flight International in 2003, and has edited the now monthly title since 2015. He has reported on the UK, European and international military aviation sector for more than 25 years, and produces our annual World Air Forces directory.
View full Profile