The UK Royal Air Force (RAF) has laid out its ambition to be at the forefront of international operations with General Atomics Aeronautical Systems' MQ-9B SkyGuardian remotely piloted air system, after signing Belgium as its first training partner for the type – which it will operate using the name Protector.
Defence secretary Ben Wallace on 9 September announced that a Protector International Training Centre is to be built at RAF Waddington in Lincolnshire, under a fresh investment worth £94 million ($130 million). The base will from later this decade be home to the UK's 16-strong fleet of the medium-altitude, long-endurance aircraft.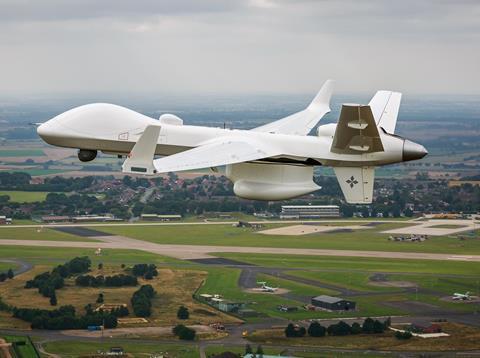 Speaking at Waddington during a flight demonstration event involving a maritime search radar-equipped MQ-9B SeaGuardian, RAF chief of the air staff Air Chief Marshal Sir Mike Wigston described the commitment as "A clear demonstration of our ambition to be the international training centre for some of the 30 allied air forces who have already expressed interest in Protector and SkyGuardian."
Military personnel from several nations were also visiting the base, to receive updates on the air vehicle's development and UK training offer.
"The opportunities for future collaboration are vast," Wigston says, pointing to the opportunity for the RAF "to pass on our years of combat experience" while operating the MQ-9A Reaper.
Brussels in August 2020 signed a roughly $189 million deal to acquire four MQ-9Bs and two ground control stations (GCS), with its lead air vehicle currently in production.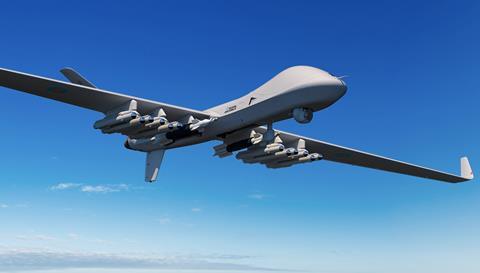 "Housing the synthetic training system for the [Protector] aircraft, the centre will enable crews from the RAF and international partners to conduct a significant amount of their training in a secure environment," the UK Ministry of Defence says. The facility also will be networked with its future Defence Collective Training environment and Gladiator distributed simulator network.
In addition to housing five synthetic training systems, the training campus infrastructure will also include a new hangar and living accommodation.
General Atomics in August deployed its MQ-9B prototype to the UK aboard a freighter to support testing in advance of the RAF fielding its Protector derivative operationally from 2024. A more than two-week airspace integration trials activity included performing what the partners claim to be the first flight by an unmanned air vehicle in its class in non-segregated airspace.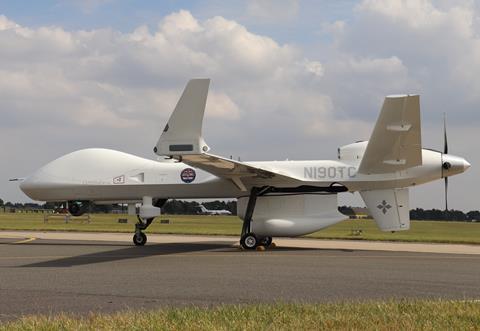 Performed on 1 September, the milestone sortie involved the SeaGuardian taking off from Waddington and crossing the North Sea to fly above Leeuwarden air base in the Netherlands. General Atomics is due to deliver the Royal Netherlands Air Force's first of four MQ-9A Reapers before year-end, with the vehicle currently undergoing type acceptance in the USA.
The flight was the result of extensive work conducted in conjunction with the UK Civil Aviation Authority, which will be responsible for the Protector platform's certification.
Describing the event as having been enabled by "the biggest airspace change notice in UK peacetime", Group Captain Shaun Gee, programme director for the Protector RG1's introduction to service, notes: "Other players, and air traffic control systems – both here and in Europe as it transited to Leeuwarden – interacted with this aircraft seamlessly, as if it was like any other."
He notes that in addition to advancing the RAF's programme, such achievements should "help assure the public, as well as the regulator, that this system is absolutely safe to fly like any other aircraft".
Gee notes that the ability to fly Protector internationally using civil airspace is key to the RAF's operating concept. General Atomics' longest flight with the MQ-9B has totalled more than 40h, with the Honeywell TPE331-10 turboprop-engined type having a 210kt (388km/h) cruise speed and an operational ceiling of 40,000ft.
Rather than relying on the presence of forward-deployed launch and recovery element personnel, as is the case with the service's current Reapers, the new model could be self-deployed, following a small support team which would set up the required equipment for it to take-off and land automatically once in theatre.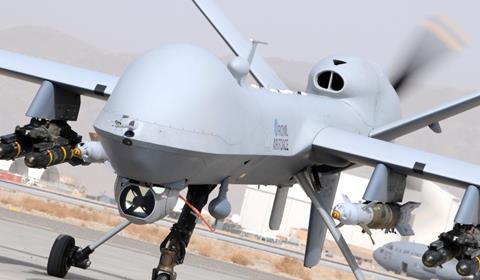 The airspace integration trials involved using a General Atomics detect and avoid radar employing two active electronically scanned arrays in the aircraft's nose, in combination with ADS-B technology and other onboard sensors.
The test platform also is equipped with a back-up satellite communication system, supplied by Inmarsat, and carries Leonardo's Sage electronic support measures equipment on its wingtips.
Additional work during the SeaGuardian deployment involved using the Raytheon SeaVue maritime search radar housed within a radome beneath its fuselage. The UK has declared strong interest in adding such a capability to its Protector fleet, with Leonardo's Seaspray 7500E sensor its favoured candidate for a requirement which has yet to be backed by firm funding.
From mid-September, the SkyGuardian will participate in the multinational Joint Warrior exercise, being staged from RAF Lossiemouth in Scotland, where its GCS equipment was installed for the duration of the UK deployment. The service says the system's contribution will be in "the surface, sub-surface and amphibious domains".
The UK has ordered its air vehicles and seven GCS for £260 million, as part of a Protector programme worth an overall £1.1 billion.
General Atomics has already flown four of its MQ-9B launch customer's aircraft, including while performing captive carriage sorties with MBDA Brimstone 3 air-to-surface missiles and Raytheon Systems Paveway IV precision-guided bombs. The platform has eight under-wing pylon positions, as well as the ability to carry stores or a large sensor beneath its centreline.
A UK trials campaign is due to be performed in the USA in 2022-2023, before the arrival of the first RAF aircraft at Waddington. Instructor crews also will receive training at General Atomics' Grand Forks facility in North Dakota, before the UK training centre becomes operational.
Gee says that the RAF's early-2024 entry into service milestone will represent the operational availability of one 24/7 "task line" with its 31 Sqn and the UK-based training system. Full operational capability is due to be declared in 2026, with three task lines at readiness.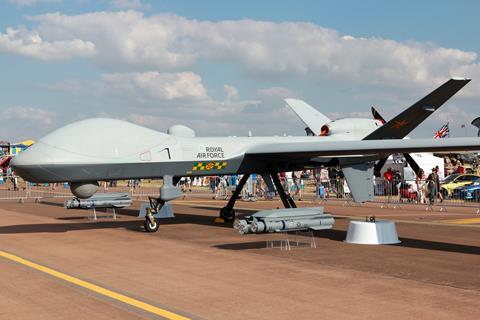 Once at full strength and in use with two squadrons, the RAF expects its Protector force will total 501 personnel: fewer than for its smaller number of Reapers. Each three-person crew will have a pilot, sensor operator and mission intelligence coordinator.
"We're building on 10 years of Reaper operations, where we've learned a hell of a lot about how to use these types of systems, either in an intelligence, surveillance and reconnaissance role or – if we need to – to prosecute with kinetic effects," Gee says.
As well as offering the RAF a more capable replacement for its current Reapers, the civil airspace-approved Protector is also expected to support a range of so-called Military Aid to Civil Authorities duties in the UK, such as during disaster relief or search and rescue operations.
"My instinct tells me that as we begin to understand the utility of this platform, as we see its role developing in maritime patrol, in environmental monitoring, and all the other range of missions it can do, future [UK] government decisions will actively consider [acquiring] more Protectors," Wigston says.
In addition to Belgium and the UK, Australia is General Atomics' other current confirmed customer for the MQ-9B, with plans to buy 12. Taiwan and the United Arab Emirates also last year received approval from the US Department of State to obtain SkyGuardians, although both have yet to finalise the potential Foreign Military Sales programme deals.