Hungary's Saab Gripen C/D fighters are to be upgraded to the latest MS20 Block 2 operating standard, with the work to incorporate radar modifications, enhanced communications and expanded weapons capability.
Concluded between Budapest and Sweden's FMV defence materiel administration and announced on 12 January, the deal involves 14 aircraft operated by the Hungarian air force, including two D-model trainers.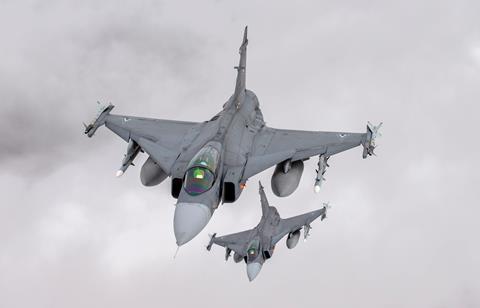 "The MS20 Block 2 upgrade… greatly increases both Gripen's combat and communication capabilities, as well as access to a wide range of weapons that can be integrated on Hungarian air force fighters," Saab says.
An upgrade to the type's Saab PS-05/A Mk 4 radar will significantly increase performance and tracking range, the company says. "This allows better detection capability of small air-to-air targets, improved clutter suppression, and brings growth potential for further developments in the air-to-air and air-to-ground modes," it adds.
Other system updates will include "enhancing Link 16 data link functionality and updated voice communication to the latest NATO secure communication standard," the airframer says. The fighters also will be equipped with Mode 5 identification friend or foe technology.
Saab says Hungary will be able to integrate MBDA Meteor beyond-visual-range and Diehl Defence IRIS-T short-range air-to-air missiles, plus Raytheon's GBU-49 225kg (500lb) precision-guided bomb via the Block 2 update.
"This upgrade means a real boost in the capabilities of Hungary's fighter aircraft," says Ingela Mathiasson, head of aviation equipment at the FMV.
"Deliveries will commence within a year and the upgrade will be finished before 2026," says Asa Schollin, head of Saab's Gripen sustainment business unit.
"The Hungarian air force has taken the step to be one of the premier air forces in Europe and is a real contributor to NATO and EU operations," says Major General Nandor Kilian, air force inspector for the Hungarian Defence Force. The service has operated its Gripens under a long-term lease arrangement with Stockholm since 2007.