Israel Aerospace Industries (IAI) has claimed a world-first, after a Heron unmanned air vehicle (UAV) touched down at Tel Aviv's Ben Gurion International airport on 16 September.
Conducted in association with the Civil Aviation Authority of Israel and Israel Airports Authority, the sortie involved the medium-altitude, long-endurance Heron taking off from Ein Shemer airfield. It returned to the site after having touched down at Ben Gurion "alongside commercial flights occupying civilian air space", the company says.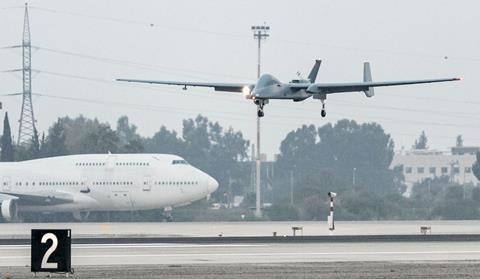 "The entire take-off, flight and landing were operated from the Ein Shemer control station," IAI says. The facility is located approximately 27nm (50km) north of Tel Aviv.
IAI says the demonstration "proves the maturity and safety" of its Long Runner operating system. This allows users to perform long-range missions of over 810nm using satellite communications, and including automatic take-off and landing.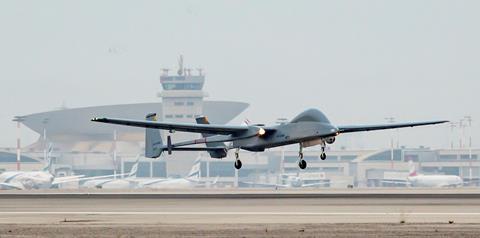 With a maximum take-off weight of 1.2t, the Heron has a 16.6m (54ft 4in) wingspan. In military service, the surveillance type has a maximum operating endurance of 45h while operating at up to 35,000ft.
"The future of the world of aviation will need to allow unmanned aerial vehicles to land at civilian airports," notes Moshe Levy, general manager of IAI's Military Aircraft Group. "This is a great achievement for IAI in the UAV arena," he adds.