Israel Aerospace Industries (IAI) is seeing strong interest in its unmanned air vehicle (UAV) product line, with the Heron Mk II front and centre at its Paris air show exhibit.
Already in operational use, the medium-altitude, long-endurance type – which can operate at an altitude of 35,000ft – is replacing the company's popular predecessor on the market.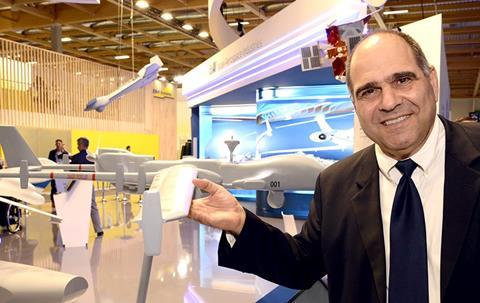 "The [Heron] Mk I is an excellent plane, but now we are replacing it, because there is a new kid in town," says Moshe Levy, general manager of IAI's Military Aircraft Group.
"It was one of the best UAVs flying, but the years passed and there were things that we should improve, and there are new customer needs."
Equipped with a "much more powerful, fully-certified engine" and dual-redundant systems, the product evolution is suitable for a wide range of roles, using electro-optical/infrared sensors and radar payloads to performing communications relay and electronic intelligence duties.
"From a mission point of view, this UAV comes with the ability to carry almost every payload you can think of," Levy says.
In addition to delivering performance and reliability enhancements, IAI also has worked to improve data exploitation, including by using artificial intelligence technology which prioritises delivering the information needed by operators.
The company also is seeing strengthened demand for vertical take-off and landing products in the 40kg (88lb), 80kg classes and above, where an operating endurance of up to 10h can be provided. "The role [for small UAVs] is getting bigger and bigger", he says: "for ground forces, what you really need is something with a very small footprint".
Meanwhile, IAI will "this autumn" deliver its first Heron TP to long-time Heron Mk I operator the German military. The turboprop-powered model will deliver an interim intelligence, surveillance and reconnaissance capability until the Eurodrone system – now in development by European industry for France, Germany and Italy – enters operational use by the end of this decade.

Craig Hoyle joined Flight International in 2003, and has edited the now monthly title since 2015. He has reported on the UK, European and international military aviation sector for more than 25 years, and produces our annual World Air Forces directory.
View full Profile