Israel Aerospace Industries (IAI) has used the DSEI show in London to launch its Rotem Alpha loitering munition, with the model optimised for use during anti-tank missions.
Development of the system – which has combined an already operational unmanned air vehicle (UAV) platform with a combat-proven, 2.5kg (5.5lb) anti-tank warhead – drew on lessons learned from the war in Ukraine, which has seen the extensive use of armed drones.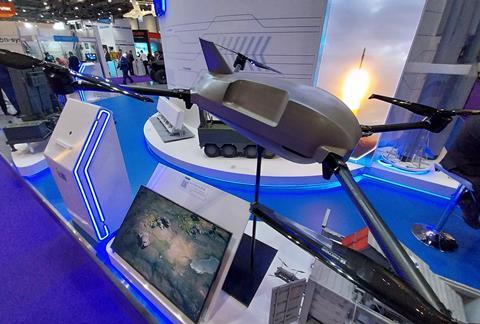 Alon Tamir, senior business development and marketing manager at IAI's MBT Missiles division, tells FlightGlobal that the new product builds on its experience with the lightweight, man-portable Rotem L. This includes the ability for the vertical take-off and landing (VTOL) vehicle to touch down mid-mission and perform a so-called perching, or ambush operation.
Such a technique can extend total mission time from loitering for 1h to being on call for as much as 24h, Tamir says. "We can fly for 20km [10.8nm], land and wait for the enemy to arrive," he explains. The system has a communication link range of twice this distance.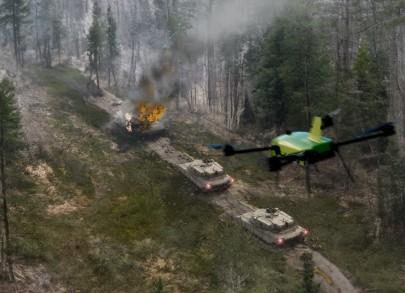 Once called back into action, the UAV "can fly and hover at a low-altitude profile to build situational awareness and execute an attack", IAI says.
"As a VTOL platform, it can be launched and landed between trees, structures, and other types of harsh terrain," the company notes.
Tamir notes that the Rotem Alpha uses the same tablet-based ground control unit as the smaller Rotem L quadcopter, which is already in use with multiple nations, including NATO nations.
"Rotem Alpha's sensor suite autonomously detects and locates hostile enemy fires, like artillery, rockets, and missile launchers, and then investigates and engages a direct attack using its electro-optical day and night seeker," IAI says.
The design also has potential application for use in maritime operations, the company says, including being launched from a small surface vessel.

Craig Hoyle joined Flight International in 2003, and has edited the now monthly title since 2015. He has reported on the UK, European and international military aviation sector for more than 25 years, and produces our annual World Air Forces directory.
View full Profile