Israel Aerospace Industries (IAI) has unveiled a new family of pod-housed electronic warfare (EW) equipment, which it says is suitable for use across a range of self-protection, standoff jamming and training applications.
Named Scorpius, the active electronically scanned array (AESA) radar technology can "simultaneously scan the entire surrounding region for targets, and deploy narrowly-focused beams to interfere with multiple threats across the electromagnetic spectrum", IAI says.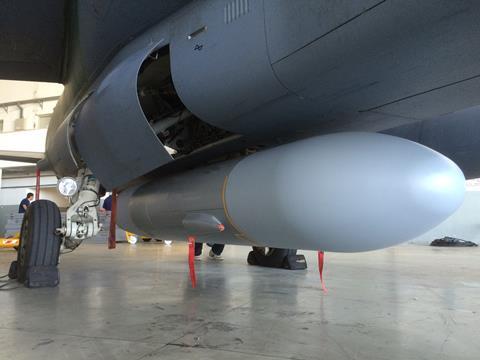 In the air domain, the company is offering the Scorpius SP self-protection pod for carriage beneath the wing of a combat aircraft. This design retains the aerodynamic structure of a previously-certificated pod design, but incorporates all-new electronics and forward- and aft-facing arrays, says Gideon Fostick, its director of marketing, intelligence, communications and EW division.
A larger, SJ-model contained within a pod fitted beneath a host aircraft's centreline will provide standoff jamming, able to "disrupt enemy aerial and ground-based electromagnetic operations across a vast sector", IAI says.
"Now you can see everything that's out there, and jam it simultaneously," Fostick says. "The support jammer offers the ability to address a whole region of enemy airspace and ground-based air defence systems, and nullify them all, opening the airspace for safe activity by other aircraft."
IAI revealed its work in this area after its Scorpius T training version was successfully employed during a multinational Blue Flag-series exercise in Israel during October.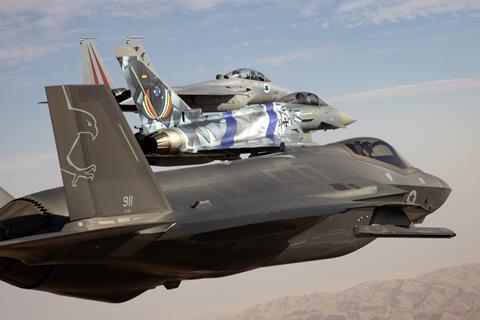 Capable of emulating modern air-defence system equipment, the technology received "excellent feedback" from participating air forces, Fostick says.
IAI attributes the AESA system's performance to its claimed "unprecedented receiver sensitivity and transmission power, far exceeding those of legacy EW systems". Configurations can range from using "a couple of dozen to many hundreds" of digital receivers within an array, Fostick says.
He reveals that three countries have already ordered Scorpius technology, with their contracted equipment to be "delivered for active service within 2021". He declines to identify the buyers, or detail the versions of system involved in the sales: Scorpius is also available for use in land and maritime applications.