India has conducted a pair of recent tests highlighting its ability to attack surface vessels from the air.
The first test, on 12 May, involved the first launch of the extended-range version of the Brahmos missile from an Indian air force Sukhoi Su-30MKI, says India's defence ministry.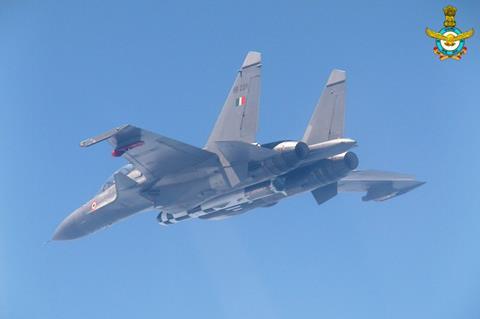 After the fighter launched the missile, the weapon scored a direct hit on a target in the Bay of Bengal.
"With this, the [Indian air force] has achieved the capability to carry out precision strikes from Su-30MKI aircraft against a land/sea target over very long ranges," the defence ministry says.
The Su-30MKI is capable of carrying a single Brahmos weapon along its centreline.
According to the weapon's manufacturer, Brahmos Aerospace, previous tests with the weapon have validated its capabilities against land and sea targets.
It adds that the baseline Brahmos – which can also be launched from warships or army units – can hit targets at ranges of up to 157nm (290km). The missile has two stages: a solid propellant booster that takes the weapon to supersonic speeds, and a liquid ramjet that powers it to faster than Mach 3 in its cruise phase.
Cruising altitude is as high as 15,000ft, with a terminal altitude as low as 32ft.
#IndianNavy in association with @DRDO_India successfully undertook maiden firing of the first indigenously developed Naval #AntiShip Missile from Seaking 42B helo, today #18May 22 at ITR, Balasore.#AatmaNirbharBharat #MaritimeSecurity@DefenceMinIndia @SpokespersonMoD pic.twitter.com/3AA0F3kIsS

— SpokespersonNavy (@indiannavy) May 18, 2022
Separately, the Indian navy has conducted the first successful test of the indigenous Naval Anti-Ship Missile (NASM) from a Westland Sea King of the Indian navy.
Developed by the Defence Research Development Organisation, NASM is designed to provide helicopters with an anti-ship capability.