Boeing has delivered the Indian navy's 10th P-8I maritime patrol aircraft, and also received a contract to provide continued support for the UK Royal Air Force's (RAF's) fleet of adapted 737NGs.
"The [P-8I] patrol aircraft is an integral part of the Indian navy's fleet and has surpassed 30,000 flight hours since it was inducted in 2013," Boeing says. The service employs the type in the long-range maritime reconnaissance and anti-submarine warfare role.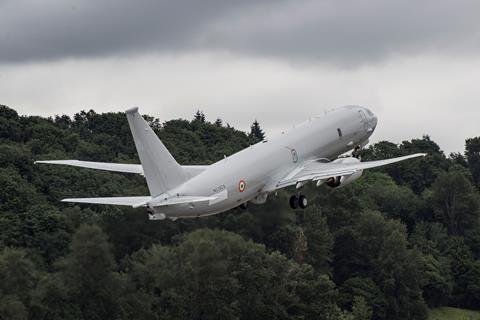 Cirium fleets data shows that India has so far signed firm orders for 11 P-8Is. Boeing notes that its latest example "is the second aircraft to be delivered under an option contract for four" signed by the Indian defence ministry in 2016.
As India grows its fleet, Boeing says construction work is being completed on a training support and data handling centre at INS Rajali, Arakkonam, Tamil Nadu, along with a maintenance training centre in Kochi, Kerala. "This new indigenous, ground-based training will allow Indian navy crews to increase mission proficiency in a shorter time while reducing on-aircraft training time, resulting in increased aircraft availability," it says.
Separately, the UK Ministry of Defence has awarded Boeing a five-year contract worth £233 million ($321 million) to support RAF Poseidon MRA1 aircraft, and deliver crew training.
"Boeing will provide maintenance services, spares and repairs, including tools and ground support equipment, as well as supply chain management, forecasting and inventory management, and airworthiness services," the company says.
The RAF has so far received five P-8s from a nine-aircraft acquisition, with the assets operated from its Lossiemouth base in Scotland. The remainder are due to be delivered this year, Boeing says.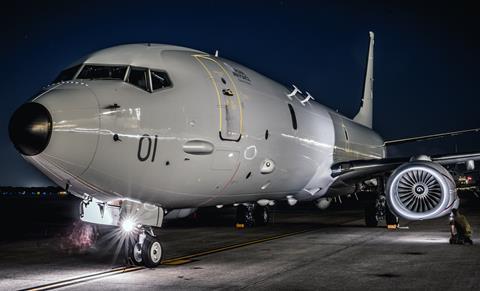 Working under subcontract to Boeing, CAE "will offer a suite of training systems and courseware to prepare aircrew and maintainers to safely and effectively operate and maintain the fleet".
The second of two CAE-produced operational flight trainers was transferred to RAF Lossiemouth last month under a previous award.
Burgess Hill, West Sussex-based CAE UK is to deliver training for "rear crew and engineering instructors, and console operators and controllers, who will perform role-playing and support functions during training and mission rehearsal exercises". This will include training on acoustics, electronic warfare and other sensor and mission systems on the Poseidon, CAE UK says.