The development of new engines for the Xian Y-20 strategic transport is going well, according to the aircraft's designer.
In addition, "two types" of domestic engines are in development for the aircraft, China's state-owned Global Times reports chief designer Tang Changhong as saying.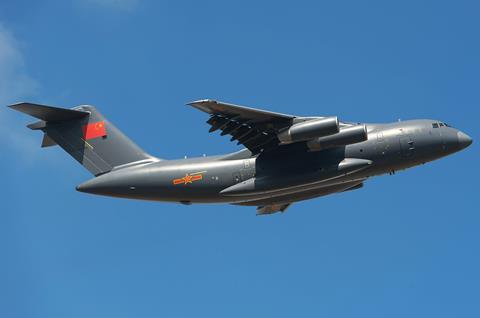 "The Y-20 now has Chinese hearts," says Tang, who reportedly made the remarks at the Airshow China event in Zhuhai.
He adds that the new engines have undergone flight tests, which have progressed smoothly.
The Y-20A in service with the People's Liberation Army Air Force is powered by four Soloviev D-30KP-2s, the same powerplant as the Ilyushin Il-76, which China also operates.
The indigenous Shenyang WS-20 high-bypass turbofan is in development, and will eventually power a variant tentatively designated Y-20B.
As for Tang's contention that "two types" of engine are being developed for the aircraft, he could be suggesting different variants of the WS-20.
At the 2016 iteration of Airshow China, AVIC displayed a model of a prospective commercial variant of the Y-20, the Y-20F-100. While the Y-20F-100's engines were clearly larger than on the baseline Y-20, company officials declined to comment about them. The Y-20F-100 was not promoted at the 2018 show.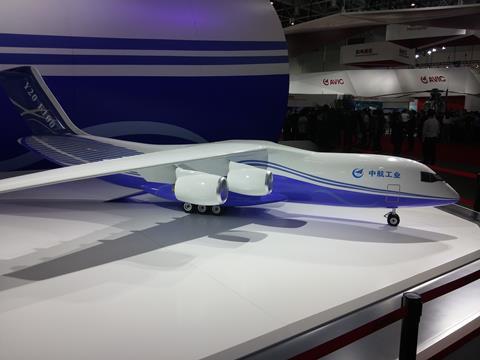 Still, Tang's reference to "two types" of engine might be related to military and civilian versions, although signs are that AVIC has abandoned the Y-20F-100 concept.
An additional variant of the WS-20 could also be used to power variants of the Y-20, such as the Y-20U tanker, which is in testing, and the planned KJ-3000 airborne early warning and control aircraft, which is based on the Y-20.
Periodically, images purporting to show the Y-20 with the WS-20 have emerged on Chinese social media, but it is hard to assess the whether they are genuine or doctored.
In addition to reducing the Y-20's reliance on Russian suppliers, the new engine is expected to improve the aircraft's range, reduce fuel consumption, and boost payload.