The US government has cleared the sale of eight Bell Boeing MV-22 Block C Osprey tiltrotors to Indonesia.
If concluded, the deal is valued at $2 billion and would be conducted under the US government's Foreign Military Sales process, says the Defense Security Cooperation Agency (DSCA).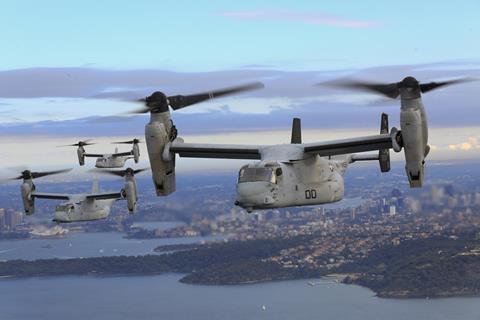 In addition to the eight MV-22s, the package would include 24 Rolls-Royce AE 1107C engines as well as an array of sensors, communications equipment and other systems. Also included are 40 machine guns.
"This proposed sale will support the foreign policy goals and national security objectives of the United States by improving the security of an important regional partner that is a force for political stability, and economic progress in the Asia-Pacific region," says the DSCA.
"It is vital to US national interest to assist Indonesia in developing and maintaining a strong and effective self-defence capability. The proposed sale of aircraft and support will enhance Indonesia's humanitarian and disaster relief capabilities and support amphibious operations. This sale will promote burden sharing and interoperability with US Forces. Indonesia is not expected to have any difficulties absorbing these aircraft into its armed forces."
Cirium fleets data indicates that the Indonesian air force has 40 in-service rotorcraft with an average age of 24.8 years, including six Airbus Helicopters H225Ms with an average age of 4.2 years.
The country's army operates 144 rotorcraft, including a large number of Bell 412s and eight Boeing AH-64 Apaches.