Indonesia has signed a memorandum of understanding to acquire up to 24 Boeing F-15EX fighters during a visit by defence minister Prabowo Subianto to the USA.
The MOU was signed at Boeing's St. Louis factory in Missouri, which produces the F-15 and other combat aircraft, says the airframer.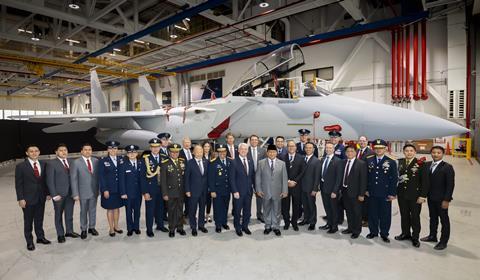 Air Vice Marshal Yusuf Jauhari, head of Indonesia's Defence Facilities Agency, and Mark Sears, Boeing Fighters vice-president and general manager, signed the agreement after the Indonesian delegation toured the factory.
"We are pleased to announce our commitment to procure the critical F-15EX fighter capability for Indonesia," says Subianto. "This state-of-the-art fighter will protect and secure our nation with its advanced capabilities."
Finalising the deal is contingent on the blessings of the US government. In February 2022, The US Defense Cooperation Security Agency (DSCA) announced that it had approved a possible $13.9 billion Foreign Military Sales (FMS) deal to provide Indonesia with 36 Boeing F-15IDs, which is based on the F-15EX now entering US Air Force service.
Boeing's statement about the F-15EX MOU, however, references the Indonesian fighter as the "F-15IDN," as opposed to the "F-15ID" designation given previously.
The exact number to be acquired also appears to be uncertain, with Boeing stating that the MOU covers "up to" 24 aircraft.
"We have invested years of expertise into developing the F-15EX capabilities," says Sears.
"There is no other fighter like the F-15 in the world, and this platform will put Indonesia at the top of air dominance capabilities. Boeing is ready to support this effort and remains a committed partner to the US government in advancing international security objectives with allies and partners around the world."
The final package could include some degree of Indonesian industrial participation. In November 2022, Boeing and Indonesian Aerospace signed an MOU to look at areas where the two companies could work together should the F-15EX sale go through. Traditionally, Indonesian Aerospace (also known as PTDI), has been closer to Boeing's European rival Airbus.
The original FMS package included GE Aviation F100 or Pratt & Whitney F110 engines, Raytheon Intelligence & Space AN/APG-82(v)1 active electronically scanned array radars, and a broad range of equipment and services.
The F-15EX MOU comes amid a recapitalisation of Indonesia's air force. On 10 August, Indonesia activated the next tranche of orders for Dassault Aviation Rafale fighters, increasing the Southeast Asian country's Rafale commitments by 18 examples to 24 aircraft.
Hours prior to the announcement of the original F-15EX FMS package in February 2022, Jakarta signed commitments for 42 Rafales.