Think tank Rand believes that Operation Inherent Resolve (OIR) in Syria holds important lessons for the US Air Force (USAF) in the event of a conflict with near-peer adversaries.
In a report about the air war against Islamic State of Iraq and Syria (ISIS) in Northern Iraq and Syria from mid-2014 to early 2019, Rand describes a major air campaign involving over 88,000 strike sorties. The effort also saw tens of thousands of support sorties involving air-to-air refuelling and airlift, as well as intelligence, surveillance and reconnaissance (ISR) missions.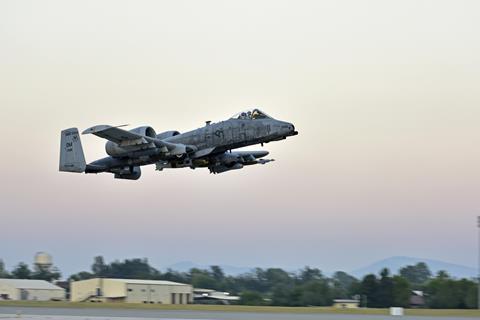 Rand notes that OIR saw far more weapons released in an average year than was the case in counterinsurgency operations in Afghanistan (Enduring Freedom) and Iraq (Iraqi Freedom).
The report highlights a number of important points and offers several suggestions. For example, it stresses the paramount importance of tankers in sustaining combat operations, and the usefulness of tanker interoperability among allied air forces.
Over Syria, tankers were particularly important given that coalition aircraft had to make long transits from their main bases, and often loitered before being tasked with targets. Typically, fighters would refuel going both to and from targets, and possibly during time spent on station.
In 2017, for example, tankers flew over 13,000 sorties, or 21% of all sorties flown. That year saw 23.8 tanker sorties a day, with an average of six air-to-air refuellings per sortie.
"Air refuelers enabled the air war against ISIS, giving fighter and attack aircraft the ability to fly farther, stay airborne longer, conduct more strikes, and provide more CAS [close air support] and ISR capability," says Rand.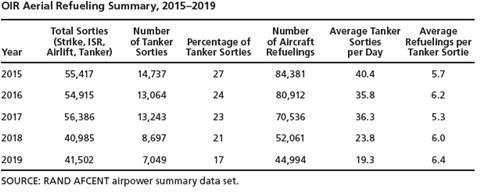 Notably, OIR missions over Syria took place in a less permissive environment than the US military is used to, given the presence of Iranian, Russian and Syrian aircraft. This ultimately saw a US Navy Boeing F/A-18E Super Hornet shoot down a Syrian air force Sukhoi Su-22 in June 2017, in the USA's first air-to-air kill since 1999.
June 2017 also saw USAF F-15Es shoot down two Iranian Shahed 129 unmanned air vehicles (UAVs).
"Although this was a far cry from a large-scale air war, US pilots had to relearn and exercise these skills in real time on a battlefield with adversary aircraft – including Russian fighters – where there was a real risk of escalation with a near peer," says Rand.
Nonetheless, Rand identified that the ability to perform the defensive counter air mission has atrophied somewhat in the USAF.
"Self-defence [rules of engagement] in air-to-air operations should be stressed to airmen in training and real-world flying events," says Rand.
"Leaders should emphasize to airmen that they are empowered and expected to defend the airspace, while avoiding inadvertent escalation. Doing so will better prepare airmen for flying missions in contested airspace against near-peer or more-capable adversaries."
The report also found that UAVs performing ISR missions were in extremely high demand, namely because they allowed the coalition to call in airstrikes without having personnel on the ground. UAVs were tasked with multiple roles, including deep, persistent surveillance, as well as support of allied troops in combat. As such, they were overtasked, and Rand suggests that such assets could be more efficiently deployed.
Finally, Rand notes that OIR again highlighted the emphasis on limiting civilian and collateral damage through precise targeting. The desire to limit civilian casualties saw great demand for precision munitions, resulting in shortages.
In addition to buying "sufficient quantities" of precision-guided weapons, Rand says that the USAF should consider retaining or buying "cheaper dumb bombs" for missions where precision is not a requirement.