The chief executive of United Arab Emirates national defence house Edge has suggested that security companies from Israel and the UAE may soon start co-operating, following August's breakthrough diplomatic agreement between the two nations.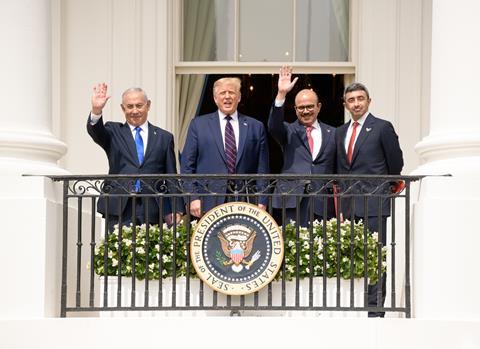 "The UAE has embarked on a historic decision to bring peace to the region. With this normalisation [of relations], it is only natural that we will start discussing multiple sectors from banking to defence," Faisal Al Bannai said on 28 September at the Global Aerospace Summit, hosted virtually from Abu Dhabi.
The so-called Abraham Accords – brokered by US President Donald Trump – have already led to a series of landmark moves, unthinkable until recently because of the refusal of all but two Arab states to recognise the state of Israel.
At the end of August, El Al flew a symbolic flight to Abu Dhabi, and in September Eithad Airways began making its flights available for sale to customers in Israel. El Al has also suggested that it might begin a weekly cargo service to Dubai, although no bilateral deal yet exists for flights between the two countries.
Bahrain has also agreed to normalise diplomatic relations with Israel, a move backed by Oman. Saudi Arabia has said it will permit flights to Israel from the UAE to cross its airspace.
In June, Israel's biggest defence company Israel Aerospace Industries (IAI) said it was to work with Abu Dhabi-based artificial intelligence and cloud computing firm Group 42 on Covid-19 research and development. Group 42 has since announced plans to open an Israel subsidiary.
A publicly-acknowledged call between Israel's defence minister and his counterpart in the UAE took place in August after which the two pledged to establish "solid bilateral relations", although behind-the-scenes conversations between security officials from both countries are believed to have been commonplace for years.
On 17 September, Israeli website Calcalist reported that, as part of a deal to sell Lockheed Martin F-35s to the UAE, without objection from Israel, negotiations were underway for the wings to be manufactured at IAI's Lod plant.
Israel and most of the Gulf nations view Iran as a common threat.