Israel plans to order an additional 25 Lockheed Martin F-35 fighters, which will allow it to stand up a third squadron of the type.
The addition of 25 more F-35s will bring Israel's total fleet to 75 examples, according to Israel's defence ministry.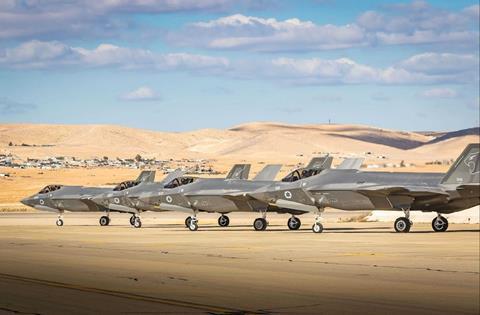 The value of the deal is $3 billion, which will be funded through aid from the US government.
"As part of the original agreement between the governments, the aircraft's manufacturer, Lockheed Martin, and the engine manufacturer, Pratt & Whitney, have committed to involving Israeli defence industries in the production of aircraft components sold to equipped countries," adds the defence ministry.
The ministry did not specify the variant of F-35 that will be obtained.
Cirium fleets data indicates that the Middle Eastern country operates 36 F-35I 'Adir' fighters, with commitments for an additional 14 examples. The F-35I is based on the F-35A, the conventional take-off and landing variant of the type.
The F-35I is equipped with locally developed electronic warfare equipment, weapons, and other systems.