Gulfstream has delivered the Israeli air force's new G550-based "Oron" surveillance platform, which is due to enter operational use in 2023 following the installation of its mission equipment.
The modified long-range business jet arrived in Israel on 4 April, following a ferry flight from Gulfstream's production site in Georgia.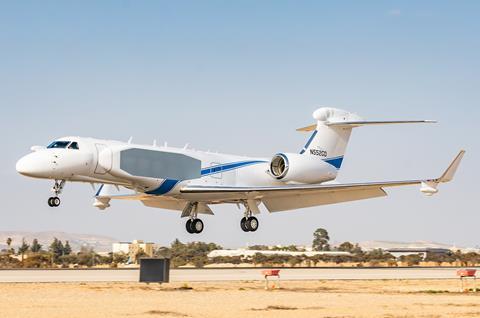 "Gulfstream's engineers designed the adjustments to the aircraft's exterior and flightdeck, and its production team built the surveillance platform in the dedicated special-missions modification facilities in Savannah," the airframer says.
Welcoming the aircraft, Israeli air force (IAF) commander Major General Amikam Norkin described the new model as "yet another manifestation of the IAF's increasing effectiveness".
"The aircraft adds another layer to the IAF's current operational and strategic capabilities, which allow for continued air superiority in the Middle East and an ability to defend Israel's skies and ensure its security," Norkin says.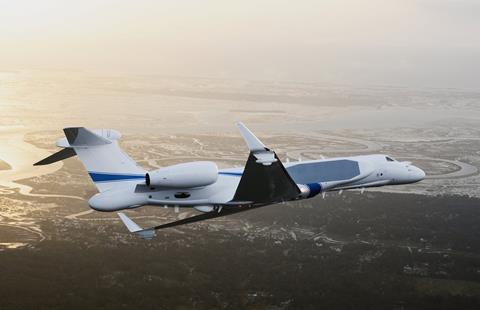 Operating from Nevatim air base, the service's 122nd Sqn – named "Nachson" – already operates two airborne early warning-optimised "Eitam" aircraft and three Gulfstream V-derived signals intelligence-gathering "Shavit" platforms. Cirium fleets data shows that these are aged between 13 and 15 years.
According to the service, the Oron will combine the roles performed with its existing models, enabling the squadron to conduct "aerial imaging, control and radar [tasks], and maritime intelligence-gathering for the navy".
The new asset was ordered in June 2017, according to Cirium.
"Over the next two years, the plane will undergo a mission systems installation process, and then arrive at the squadron as an operational aircraft," the air force says.
The service's existing Nachson assets were outfitted by Israel Aerospace Industries' Elta Systems unit, with the Eitam platform equipped with its EL/W-2085 conformal airborne early warning radar system.
Italy and Singapore are also operators of the AEW-adapted G550, with two and four examples in use, respectively.