Italy's leading defence companies have signed a contract to advance the nation's role in the UK-led Global Combat Air Programme (GCAP), which seeks to deliver a new manned Tempest fighter and complementary systems for operational use from 2035.
Strategic partner Leonardo heads the Italian team, which also involves engine company Avio Aero, electronic warfare specialist Elettronica, and guided-weapons house MBDA Italia.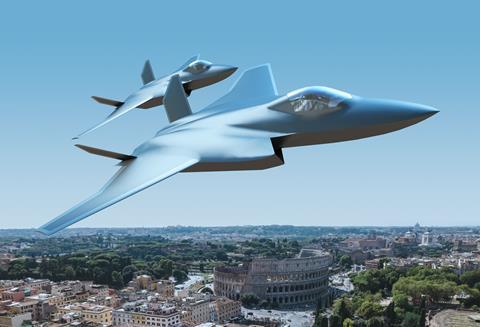 Under the new contract agreement, the companies say they will "progress technology development in support of the GCAP system of systems concept, based on sixth-generation combat air platforms operating in multi-domain scenarios".
Rome has so far pledged to allocate €6 billion ($6.5 billion) in support of the GCAP initiative. The latest funding "will allow for the launch of technology development projects in areas of strategic interest", the industry partners say.
The development follows the formal launch of the GCAP project's concept and assessment phase last December, which sets the course for equipment demonstration activities to commence later this decade. The trinational effort also involves UK Team Tempest industry partners BAE Systems, Leonardo UK, MBDA UK and Rolls-Royce, plus Japanese industry.
"Industry will collaborate with universities, research centres, SMEs and start-ups, allowing for the exchange of knowledge and growth of skills at a national level, all in close partnership with the Italian Ministry of Defence," the Italian companies say.
"This new phase is a crucial step in the process of identifying and making available the innovative technologies that will ensure our defence capabilities make the necessary generational, technological and operational leap forward, allowing our national enterprise to reach the highest level of excellence and strategic autonomy," says Leonardo chief executive Alessandro Profumo.
Work "will take place in a framework of growth that strengthens the operational capacity of our armed forces while at the same time generating positive returns including technological, economic and social progress for the entire national ecosystem", Profumo adds.
"With the launch of this new phase of the GCAP programme, we are developing a plan for technology and industry that will move Italy's technology sector from the [Eurofighter] Typhoon era, into a new era of combat air underpinned by sixth-generation capabilities," says Elettronica chief executive Enzo Benigni.
"Italian industry's significant role will secure a national, European and international legacy, helping to cement the concepts of strategic autonomy and technological sovereignty," he adds.
Italy's defence ministry in December 2021 made an initial funding allocation for the "Typhoon to GCAP" effort. Research and development activities "include the study of requirements and solutions necessary to define the overall system, the creation of a technology development plan for a demonstrator that can support the roadmap and technology development and de-risking".

Craig Hoyle joined Flight International in 2003, and has edited the now monthly title since 2015. He has reported on the UK, European and international military aviation sector for more than 25 years, and produces our annual World Air Forces directory.
View full Profile