BAE Systems and MBDA have been contracted to complete the integration of Meteor and Spear missiles onto the Lockheed Martin F-35 for two European operators.
Confirmed on 17 September, the development advances work initiated in 2019 for the UK.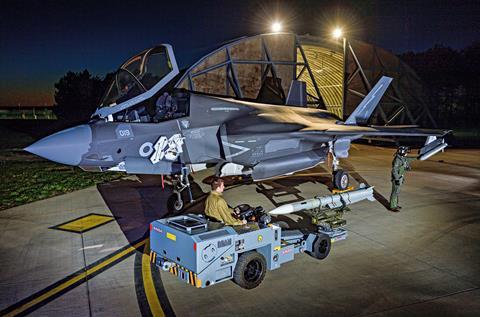 The industry partners say the addition of Spear air-to-surface missiles will provide the UK's F-35Bs with "network-enabled, high load-out, multi-effect capabilities with extended stand-off range".
"This will further enhance the UK Lightning force's capability to defeat challenging targets such as mobile long-range air defence systems at over-the-horizon ranges in all weathers and in highly contested environments," they add.
The UK Ministry of Defence in January 2021 awarded MBDA a £550 million ($758 million) demonstration and manufacturing contract for the Spear 3, describing it as the future "primary air-to-ground weapon" for its F-35s. The fifth-generation fighter will be able to carry up to eight of the more than 75nm (140km)-range missiles internally.
Additional work covered by the new funding will complete integration of the ramjet-powered Meteor beyond-visual-range air-to-air missile on the conventional take-off and landing F-35A for Italy and the UK's short take-off and vertical landing F-35Bs.
"A team of engineers from BAE Systems, MBDA and Lockheed Martin will now commence the testing, simulation and integration activities in the UK and US to achieve initial operating capability of both weapons," the companies say.
In addition to providing new weapons functionality for the two contracting nations, MBDA group business development director Paul Mead notes: "It is also a positive step for the wider F-35 enterprise, as it adds additional capability choice for all international customers across multiple variants of the aircraft."