The Shenyang J-16 fighter is China's top choice for testing the air defences of Taiwan.
Chinese air intrusions into Taiwan's southwest air defence identification zone (ADIZ) have made headlines in recent days owing to several large flights to the south of the democratic island, which Beijing claims as a wayward province.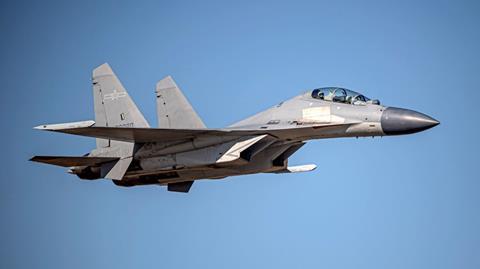 According to Taiwan's Ministry of National Defense, recent incursions included 16 People's Liberation Army aircraft flying into the ADIZ on 3 October, with 39 probing the ADIZ on 2 October in two separate waves. This followed a 28-aircraft incursion on 1 October, China's national day.
"China has been wantonly engaged in military aggression, damaging regional peace," Taiwan premier Su Tseng-chang is reported as telling local media.
On 3 October, the US Department of State issued a statement condemning Beijing's flights.
"The United States is very concerned by the People's Republic of China's provocative military activity near Taiwan, which is destabilising, risks miscalculations, and undermines regional peace and stability," it says. "We urge Beijing to cease its military, diplomatic, and economic pressure and coercion against Taiwan."
An analysis of Taiwanese incursion statistics from 3 September to 3 October shows that China mounted a total of 209 individual aircraft sorties into the Southwest ADIZ.
Of these, 116 were operated by the twin-seat J-16, a type based on the Russian Sukhoi Su-30. The Su-30 also figured prominently, accounting for 24 sorties. Overall, J-16s and Su-30s provided 67% of the sortie generation mounted in the last month.
The second most common type was the Shaanxi Y-8 anti-submarine warfare aircraft with 27 sorties, likely reflecting China's need to bolster its capabilities in this crucial area.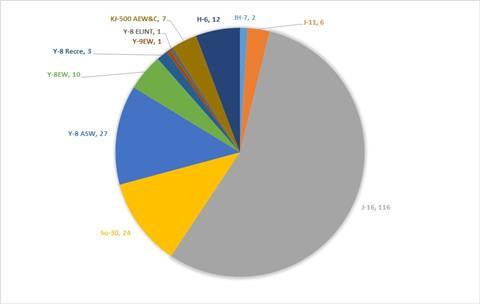 While general media made much of "nuclear-capable" Xian H-6 bombers participating in the incursions, this type was only involved in 12 sorties over the last month.
Curiously, some notable types have been completely absent. Taiwan's defence ministry has not spotted the single-engined Chengdu J-10 since 12 April, when four examples entered the ADIZ as part of a large incursion by 25 aircraft.
The Xian JH-7, despite having a maritime strike role, has also been largely absent from ADIZ incursions. Two examples were spotted on 4 September, but prior to this the last JH-7 sighting occurred on 17 June.
Completely absent from Taiwan's statistics is the Su-35, of which China operates 24 examples, or the Chengdu J-20. Transport aircraft are also absent, and it is not clear if Chinese assets conduct any air-to-air refuelling activities during sorties.