Flyby Technology – a UK-based developer of unmanned air vehicles (UAVs) – has scored a launch order for its armed Jackal drone, with a 160-unit commitment from Taiwan.
Jon Parker, founder and chief executive of the company, speaking to FlightGlobal from the DSEI show in London on 14 September, said the vertical take-off and landing Jackal is "just right for Taiwan" as it can operate across multiple domains, including maritime.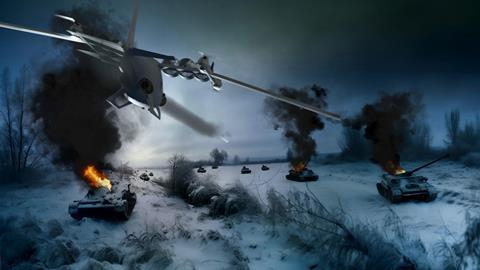 No details of the contract value have been disclosed, but Parker says the UAV is pitched at a price-point "between expendable and attritable".
Parker also declines to reveal a delivery timetable, citing customer sensitivities, but points to the rapid development of the platform, which went from "zero to firing two missiles" within six months.
In tests disclosed in April, but conducted in October 2022, a pair of Thales Martlet lightweight multirole missiles were launched from the platform. The trials were carried out as part of a project sponsored by the Royal Air Force's (RAF's) Rapid Capabilities Office.
Parker says Flyby is keen to integrate additional weapons onto the Jackal and is in discussions with several missile suppliers.
Although Taipei has placed the first order for the Jackal, Parker says other potential customers could receive their aircraft first, given the challenges around localising production in Taiwan.
"There are other customers that might be able to get there quicker," he adds.
Jackal has been developed in the UK, with input from Flyby's Turkish sister company FlyBVLOS Technology.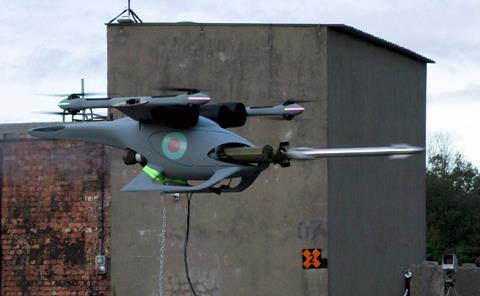 Final assembly will also be in the UK and Flyby is talking to potential suppliers, including for the Jackal's engines.
Power for the two pairs of rotors and the electric ducted fans currently comes from batteries, but production versions will instead use a turbogenerator. Maximum take-off weight is 105kg (231lb), which will rise to 155kg or above with the new propulsion system.
"There are some very big British names behind this," says Parker, a former RAF fighter pilot.
He says Jackal's role is "battlefield interdiction", targeting armoured vehicles, aircraft or personnel.
"Our role is to go behind enemy lines and push everything so far back that it becomes irrelevant."
Jackal will be capable of performing collaborative and swarming operations, and the company will also look to add manned-unmanned teaming capabilities.
Additionally, Flyby intends for the UAV to become a testbed for "new and exciting technologies", he adds.

Dominic Perry is deputy editor of Flight International but also contributes extensively to flightglobal.com. Although specialising in the coverage of the helicopter industry, he has written on most topics in aerospace – be they commercial, defence or business aviation. In addition, there has been an increasing focus on the decarbonisation of the industry and zero-emission flight initiatives.
View full Profile