Jakarta appears to be closing in on a decision to buy the Boeing F-15ID fighter, following a visit by US Defense Secretary Lloyd Austin to Indonesia.
A decision on whether to move forward with the deal is well advanced, according to a report by Reuters following a joint press briefing by Austin and his Indonesian counterpart Prabowo Subianto.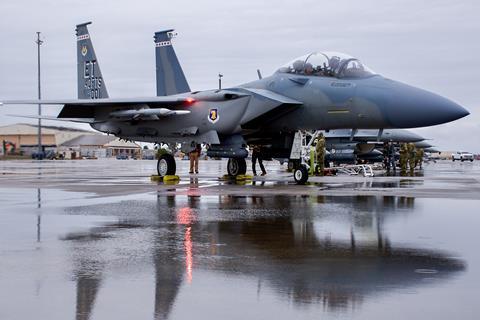 The report adds that Jakarta is comfortable with the costs associated an F-15ID package – recent media reports had suggested that the deal's value might be a stumbling block.
"The decision is now with the Indonesian government… negotiations have advanced very well," Subianto is quoted as saying.
Neither country specifically mentions the F-15ID – the designation for Indonesia's version of the F-15EX – in their formal statements about the interaction between the two defence officials.
The US Department of Defense's statement alludes to military hardware only in general terms, stating that "force modernisation" is a foundation of the defence relationship between the two countries.
In February, the US government cleared the possible sale of 36 F-15IDs to Indonesia for $13.9 billion. The approval followed Jakarta's order for 42 Dassault Rafales.
Boeing is gearing up for a possible deal. At the recent IndoDefence show in Jakarta, it signed a memorandum of understanding with Indonesian Aerospace (also known as PTDI) to explore where the companies could work together should the F-15ID deal go through.
Should Jakarta buy the F-15ID, it would become the second country after Qatar to operate both the Rafale and F-15.
Cirium fleets data indicates that Qatar operates 27 Rafales and 29 F-15QAs, with an additional seven F-15QAs on order.