Jakarta appears to have made a decision to acquire the Airbus Defence & Space A330 Multi-Role Tanker Transport (MRTT).
The country's defence ministry indicates that four Airbus types are in "effective contract" with the Jakarta: the AS565 Panther naval helicopter, the A400M tactical transport, the H225M, as well as the A330 MRTT.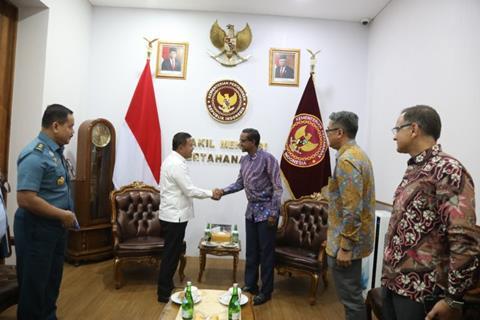 While the AS565 and H225M are in service with Indonesia, and Jakarta has orders for a pair of A400Ms, no formal commitment for the MRTT has been announced.
The defence ministry issued the statement referencing the MRTT following a meeting between Airbus Asia-Pacific president Anand Stanley and deputy defence minister M. Herindra.
Airbus indicates that Indonesia has selected the MRTT, but suggests that details still need to be finalised.
"We are pleased that Indonesia has announced its intention to acquire the MRTT, in addition to other assets already in order with Airbus, and we look forward to finalising the details," says Airbus.
It is not clear how many MRTTs Indonesia might obtain, or when deliveries will take place.
Indonesia has long been discussed as a prime candidate for the MRTT, and is familiar with the type given that neighbours Australia and Singapore both operate it. In August, a Royal Australian Air Force KC-30A – the Australian designation for the MRTT – conducted an air-to-air refuelling exercise with Lockheed Martin F-16s of the Indonesian air force.
Over 60 F-16 sorties were flown, with 200 successful refuelling boom contacts made. Sorties were conducted during both the daytime and at night.
Cirium fleets data suggests that Indonesia has a capability gap in air-to-air refuelling. Its only dedicated tanker is a Lockheed KC-130B that has been in service since 1961.
This is insufficient to support its existing combat fleet of F-16 and Sukhoi Su-27/30 fighters. Moreover, Indonesia is in the process of obtaining 48 Dassault Rafales, and in August signed a memorandum of understanding for 24 Boeing F-15EX fighters.