The Japan Ministry of Defence (JMOD) saw reduced activity by Chinese and Russian aircraft in the 12 months to 31 March, but says Chinese unmanned air vehicle (UAV) activity has jumped significantly.
During Japan's 2022 financial year, the Japan Air Self-Defence Force (JASDF) scrambled fighters 778 times against incursions by mainly Chinese (575) and Russian (150) aircraft, according to the JMOD.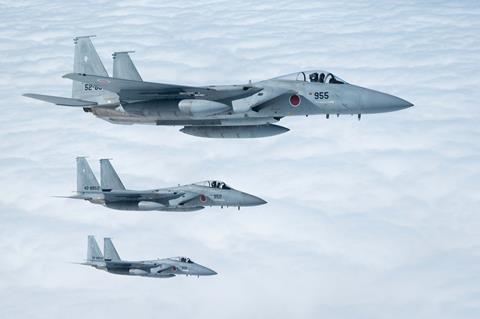 The total figure of 778 scrambles is down from 1,004 during the 2021 financial year, and up from 725 in the 2020 financial year.
Nonetheless, from the early 2010s the JASDF has had to scramble well over 500 aircraft annually, similar to activity levels last seen in the 1970s and 1980s during the Cold War.
During the period to 31 March, the JMOD also observed joint sorties operated by China and Russia. On 24 May 2022, four Chinese Xian H-6 bombers joined a pair of Russian Tupolev Tu-95s on a joint patrol that covered the Tsushima Strait, the Sea of Japan, the East China Sea, and the Pacific Ocean.
On 30 November 2022, a pair of H-6s joined pair of what were presumed to be two Russian bombers over the Sea of Japan.
The JMOD also observes that far more forays are being conducted by Chinese UAVs, specifically two turboprop types, the Tengden TB-001 "Twin-Tailed Scorpion" and Harbin BZK-005, and the turbojet powered Guizhou WZ-7 "Soaring Dragon".
The WZ-7 first appeared in the static display at Airshow China in September 2021. It is understood to be a high-altitude, long-endurance system with a similar role to the Northrop Grumman RQ-4 Global Hawk. The WZ-7 features a joined-wing design that is claimed to improve its lift and performance.
"The Ministry of Defence and the Self-Defence Forces will continue to take all possible measures for warning and surveillance, and strictly implement measures against intrusions into our airspace," says the JMOD.