The US Navy has awarded an $8.6 million contract to provide the Joint Precision and Approach Landing System (JPALS) to the Japan Maritime Self-Defense Force (JMSDF) for use aboard JS Izumo.
The contract was awarded to Raytheon Intelligence & Space in December 2022 under the Foreign Military Sales programme, according to the Naval Air Systems Command (NAVAIR).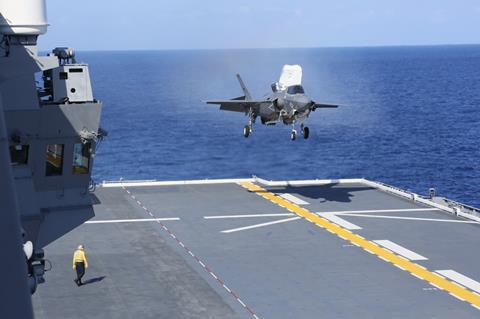 JPALS is used aboard all US Navy aircraft carriers and amphibious assault ships. It is also used by the Royal Navy (RN) aboard HMS Queen Elizabeth and HMS Prince of Wales, and the Italian navy aboard ITS Cavour.
NAVAIR states that JPALS will be deployed aboard Izumo in 2024.
The system enables precision landings on land or aboard ships in all weather conditions. It is integrated with the Lockheed Martin F-35B, the short take-off and vertical landing version of the F-35, of which Japan aims to operate 42 examples.
"The urgency with which this contract was completed is a testament to our commitment to closely collaborate with our JMSDF partners, which is critical to the 2022 National Defense Strategy call to bolster robust deterrence in the Indo-Pacific Command," says US Navy Commander Charles Steele, JPALS deputy programme manager.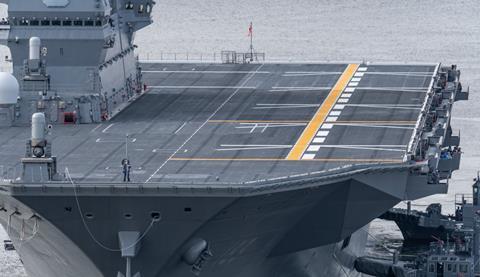 Tokyo is upgrading the Izumo and Kaga to accommodate the F-35B. The ships are officially designated 'helicopter destroyers', but the upgrade will work will transform them into aircraft carriers in all but name.
Fully loaded, the Izumo-class ships displace 27,000t, which compares with 22,000t for the RN's former Invincible class. The ships will reportedly carry about 10 F-35Bs, in addition to helicopters.
The US Navy and US Marine Corps (USMC) have provided extensive assistance to the JMSDF. This included two USMC F-35Bs landing on Izumo in October 2021.