Personnel from the Japan Maritime Self-Defense Force (JMSDF) have spent time aboard the UK Royal Navy's (RN's) HMS Prince of Wales to gain insights into aircraft carrier operations.
The JMSDF officers spent two weeks aboard the new aircraft carrier, which is undergoing flight trials with the Lockheed Martin F-35B off the east coast of the USA, according to the RN.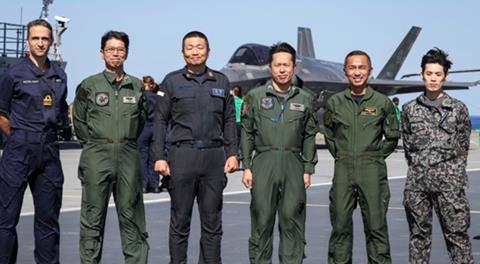 "The delegation from the Japanese Maritime Self-Defence Force joined HMS Prince of Wales for a fortnight of stealth fighter trials off the USA – helping to pave the way for their own trials in the same waters in 12 months' time," says the service.
In July, the Japanese defence ministry declined to give a timeline as to when F-35 operations will commence aboard the JS Izumo and Kaga, which are officially listed as "helicopter destroyers", not aircraft carriers.
In April, images emerged of Kaga sporting a larger, square bow that will help facilitate fixed-wing flight operations. Tokyo aims to obtain 42 F-35Bs, the short take-off and vertical landing version of the F-35. The first example will arrive during the country's 2024 financial year, which starts on 1 April 2024.
As with the RN vessels, the Japanese carriers will have Raytheon's Joint Precision Approach and Landing System, which enables precision landings on land or aboard ships in all weather conditions.
The Japanese carriers are considerably smaller than their British counterparts, displacing 27,000t compared with 65,000t for the Queen Elizabeth-class ships.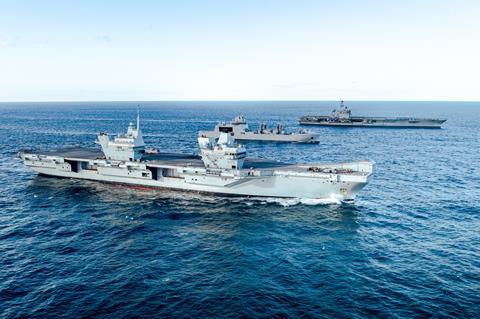 The RN says it showed the JMSDF staff all aspects of shipboard life, including deck operations. The RN and JMSDF have grown closer in recent years, especially following Queen Elizabeth's Carrier Strike Group 21 deployment to the Asia-Pacific region in 2021, which included exercises involving the JMSDF.
"It has been my privilege to help HMS Prince of Wales host our friends and allies from the both the Japan Maritime Self-Defence Force and the Japan Air Self-Defence Force to share in an exchange of knowledge on all things Development Test and Carrier Strike," says RN Lt Cdr Roderick Royce, who hosted the Japanese delegation.
"Hopefully it is the first of many such collaborations which might one day lead to full interoperability between our respective carrier strike groups – it is quite possible we will one day see a Japanese F-35B landing on the deck of HMS Prince of Wales."