Korea Aerospace Industries (KAI) is investigating the possibility of developing a tactical transport powered by two turbofan engines.
The company confirms that it is considering the development of a transport, but notes that there is no formal requirement from the South Korean government for such an aircraft.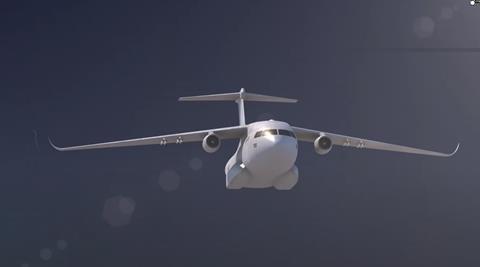 KAI has, however, produced a promotional video about the aircraft that appeared on social media accounts run by South Korean defence enthusiasts.
The proposed aircraft resembles the Embraer KC-390, with a high-wing configuration, T-tail, and a cargo ramp. Hardpoints on the wings would be able to accommodate munitions for attacking surface targets.
In the video, the aircraft is seen performing several missions, such as parachute drops, the deployment of unmanned air vehicle swarms, the launch of an anti-satellite missile from its ramp, and deploying sonobuoys.
The aircraft is also depicted refuelling a KF-21 fighter (formerly designated the KF-X) with a boom that would presumably replace the rear ramp.
If the project progresses, it would rival the KF-21 programme in ambition, and would be the largest aircraft developed and produced in South Korea.
For such a programme to be successful it would first need a respectable domestic market. South Korea has requirements for various aircraft types, but these have largely been met.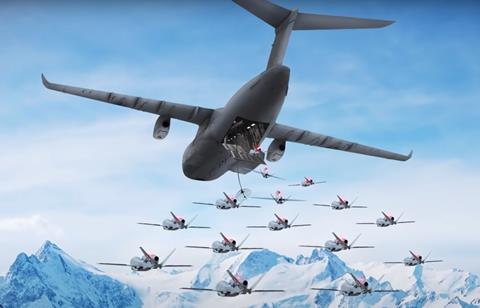 Seoul recently announced that it plans to obtain four "large-sized transport aircraft by purchasing overseas". Cirium fleets data shows that the Republic of Korea Air Force operates 12 Lockheed Martin C-130Hs with an average age of 32.9 years.
The service also operates four Airbus A330 multi-role tanker transports with an average of just 3.1 years. In addition, the Republic of Korea Navy also operates 16 Lockheed P-3s in the anti-submarine warfare role, and has orders for six Boeing P-8A Poseidon maritime patrol aircraft.
As for overseas sales – which would be essential to justify the programme – a new tactical transport would face competition from the C-130J as well as the KC-390 in a crowded, relatively slow-moving market for transports.
However, this is not the first time KAI has been involved in proposals to develop a large aircraft. In 2014, KAI disbanded a team that was looking at the development of a 90-seat regional airliner – Korean Air's Aerospace Division (KAL-ASD) was also involved in this project.
The proposed programme went through a number of iterations after its initial conception in the mid-1990s as a twin-engined regional jet. An initial plan called for South Korea to partner with Beijing on the programme, but this fell through because China wanted a larger portion of investment and the main role in final assembly. Subsequently, Chinese airframer AVIC went on to develop the ARJ21 regional jet.
KAI had also been in talks with Bombardier about a 90-seat turboprop airliner, but these fell through.
In January 2019, KAI confirmed it was conducting feasibility studies on a regional aircraft, either powered by turboprops or turbofans.
Foreign partnership would also be essential for a new tactical transport. Seoul's record here is questionable. While Indonesia is a 20% partner on the KF-21, it is consistently behind on payments for the programme. Jakarta's aerospace ambitions, however, could see it tempted by the prospect of working on a new tactical transport.