Korea Aerospace Industries (KAI) is tight-lipped about recent agreements signed in the Middle East related to the development of a tactical transport and the indigenous production of fighters.
During a January visit to the United Arab Emirates (UAE) by South Korean president Yoon Suk Yeol, KAI signed a memorandum of understanding (MoU) with the Tawazan Council, which handles the country's defence procurement, related to the joint development of a "next generation multi-mission cargo aircraft".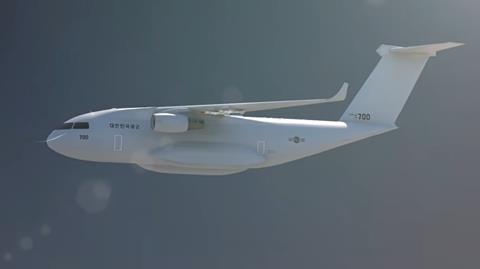 The agreement was one among several signed between South Korean and UAE companies and government agencies in a broad range of areas.
When queried by FlightGlobal, KAI confirmed the MoU but declined to provide further details.
KAI has previously expressed interest in the development of a tactical transport despite the absence of a formal requirement from Seoul.
In 2021, it produced a promotional video of a twin-jet aircraft resembling the Embraer KC-390. The proposed aircraft featured a high-wing configuration, T-tail, and a cargo ramp. Hardpoints on the wings accommodated munitions for attacking surface targets.
At a Korean defence show in 2022, it showed off a model of a prospective 'KC-X' aircraft. The twin-engined jet would feature a maximum take-off weight of 92,000kg (203,000lb), and be capable of carrying a 30,000kg payload.
Cirium fleets data shows that the Republic of Korea Air Force operates 16 Lockheed Martin C-130 tactical transports. Of these, four are relatively new C-130Js with an average age of 8.9 years. The remainder are eight C-130Hs and four MC-130Ks with an average age of 34 years. KAI could potentially see an opportunity to develop an aircraft to replace these older transports.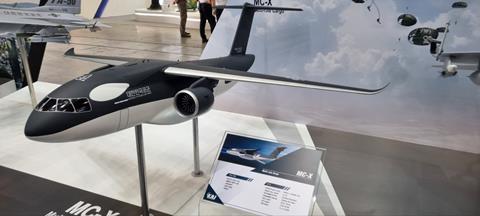 The UAE also appears to have a need for tactical transports, as it operates four C-130Hs and four L-100s with an average age of 41.1 years. Cirium lists a previous UAE commitment for 12 C-130Js as cancelled.
January also saw KAI discuss local production of advanced training aircraft with Egypt's Arab Organization for Industrialisation, as well as aircraft exports to African and Arab nations.
In response to queries from FlightGlobal, KAI said that any work in this direction is contingent on the securing of orders.
KAI has enjoyed international success with its T-50/FA-50 family of trainer/light attack jets. In the Middle East, the Iraqi air force operates 14 T-50IQs.
Cirium records that the Egyptian air force operates a broad mix of jets in the training role, including Dornier Alpha Jets, Lockheed F-16s, RAC MiG-29s, Hongdu K-8s, and Dassault Mirages.
Updated with tradeshow image of MC-X