Korea Aerospace Industries has laid out ambitious plans for its proposed MC-X tactical transport, but the aircraft remains highly conceptual and will depend on partner nation United Arab Emirates.
KAI had an extensive display dedicated to MC-X at the recent Seoul ADEX defence show. The company has conducted studies into the feasibility of the twin-engined jet airlifter, which it has been working on for several years.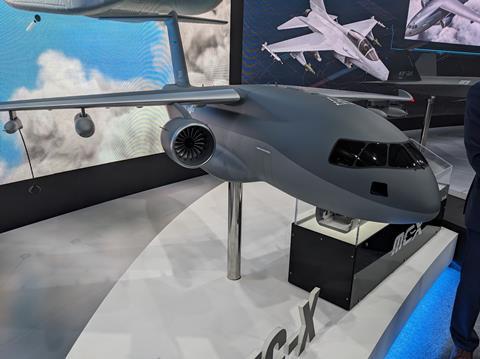 A KAI slide at the show suggested that, if developed, MC-X will be somewhat larger than the Embraer KC-390, but smaller and narrower than the Kawasaki C-2. As with the Embraer and Kawasaki aircraft, it will be powered by a pair of turbofans.
The initial configuration will be optimised for the baseline missions of troop transport and cargo. Block updates will allow for missions such as aeromedical evacuation, aerial refuelling via both probe & drogue and a boom, as well as the deployment and recovery of unmanned air vehicles. A parapublic mission proposed is aerial firefighting.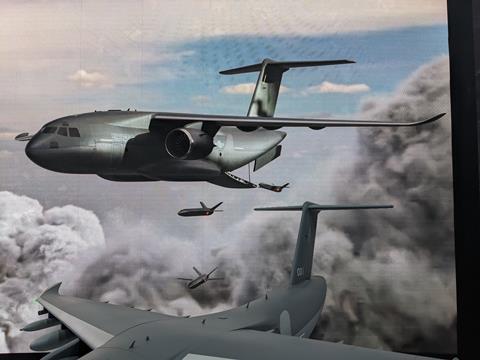 Other longer-term missions could include maritime patrol, airborne early warning & control, signals intelligence, communications relay, and stand off jamming. The aircraft is also depicted launching a ballistic missile from its cargo ramp.
A KAI official stressed that the aircraft is purely concept at this stage. Moreover, KAI has previously stated that the South Korean government has no formal requirement for an aircraft such as MC-X. Securing Seoul's backing would be key for the programme's success.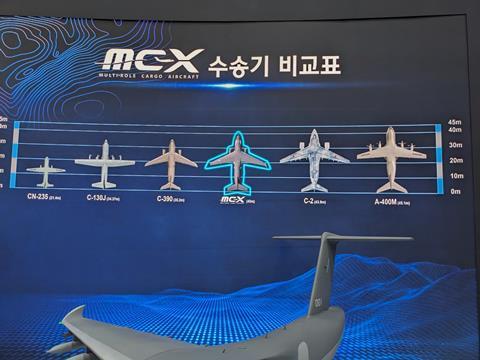 KAI, for its part, has developed significant design and integration expertise on programmes such as the T-50/FA-50 family of trainers and light combat jets, as well as the KF-21 fighter, prototypes of which made their show debut at ADEX. As KF-21 matures and eventually enters service, KAI will need projects to support its skilled workforce.
One KAI official said that the MC-X programme will depend largely on the UAE. In early 2023, KAI signed a memorandum of understand with the UAE's Tawazan Council, which handles defence procurement for the Middle East country, to jointly develop a "next generation multi-mission cargo aircraft."
The official indicated that partners can have different requirements for a programme, which adds to complexity and reduces efficiency. Another challenge is the UAE's relative lack of experience in major aircraft programmes.