Cobham Mission Systems is to deliver an inflight refuelling capability for the Korea Aerospace Industries (KAI) FA-50 combat aircraft.
Announcing its selection as prime contractor for the modification on 2 December, the UK company said it will "design, develop and qualify a telescopic probe solution" for the single-engined type.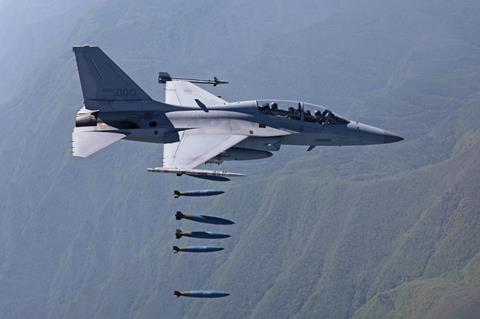 Enabling the FA-50 to undergo inflight refuelling behind hose and drogue-equipped tankers is aimed at "enhancing the aircraft's operational flexibility and interoperability", it says.
"Having supported KAI for over a decade, we are delighted to deliver this new operational capability for their impressive FA-50 jet," says Russell Bailey, vice-president air-to-air refuelling for Cobham Mission Systems in the UK.
"Our dedicated team looks forward to collaborating closely with KAI to create a bespoke probe design for the FA-50 that will deliver an enhanced operational capability to end users."
Cobham anticipates that the agreement "will lead to future serial production requirements for KAI's customer base".
Cirium fleets data shows that the dedicated combat derivative of the T-50 advanced jet trainer is in operational use with the Philippines (12) and South Korea (60). The Republic of Korea Air Force operates four Airbus Defence & Space A330 multi-role tanker transports, equipped with under-wing refuelling pods and a centreline boom.
In November 2020, the International Test Pilots School Canada also signed a memorandum of understanding with KAI to promote the FA-50 for tactical and adversary training duties.
If fielded by customers, the probe enhancement will represent an operational first for the KAI-built type. As part of its unsuccessful T-50A campaign for the US Air Force's T-X trainer requirement, Lockheed Martin adapted a two-seat example of the jet for inflight refuelling from a boom-equipped tanker. This involved adding a receptacle within a dorsal spine mounted behind the aircraft's cockpit.