Kaman has unveiled a new unmanned air vehicle (UAV) design optimised for autonomous expeditionary logistics operations, such as those performed by the US Marine Corps (USMC).
Already flown as a half-scale demonstrator, the four-rotor Kargo UAV will be able to carry a maximum cargo of 362kg (800lb), either within a conformal pod or as an underslung load.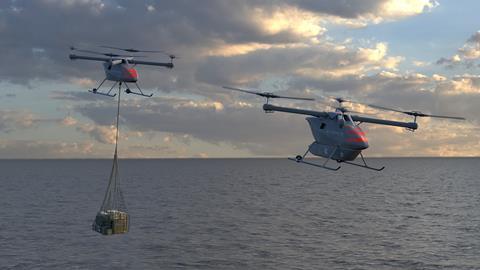 Announcing the activity on 21 September, Kaman chief executive Ian Walsh said that work to date has been performed using internal research and development funds, with the company eyeing both military and commercial opportunities.
The project – which also involves Near Earth Autonomy as a technology partner – went from its design phase to flight-testing within around nine months, Walsh says.
The design of a full-scale vehicle is currently being finalised, with a prototype due to fly before the end of 2022. Kaman says this will weigh 607kg, with a 7.4m (24ft 4in) length and width with its folding rotors deployed. With an operating ceiling of over 10,000ft, it will have a maximum speed of 121kt (224km/h).
Carrying external fuel, the Kargo UAV is expected to self-deploy over a range of 523nm (967km). While it is likely to travel only around 50nm at maximum payload, this will increase to 143nm while carrying 272kg, and 326nm with 136kg, the company says.
The design also has the potential to be employed in roles such as medical evacuation, Walsh believes.
"Near Earth will provide obstacle avoidance and other technologies, such as precision landing, sense and avoid, and navigation in a GPS-denied environment," Kaman says. The companies have already worked together on the K-Max Titan programme, which will lead to flight demonstrations for the USMC using already-acquired unmanned examples of the heavy-lift helicopter.
Its partner also has strong experience from participating in the USMC's previous Autonomous Aerial Cargo Utility System demonstration activity, the company notes.
Romin Dasmalchi, Kaman's senior director of business development, government, notes that the Kargo UAV has been designed to have a reduced deployment footprint. This means that the rotorcraft can be packed within a single ISO-style container, and rapidly prepared for flight by only two personnel.
"It really needs to come out of the box and be ready to deploy and operate in minutes, and not need a maintenance department," Dasmalchi notes.
The Kargo UAV will be powered by a 300shp (223kW)-output turbine engine. "We chose a fossil fuel engine for a reason," Dasmalchi notes. "For a long time we considered a hybrid-type powerplant, but if we want to field something in the very near future to meet some of what we believe the needs are for our armed forces, we need high-TRL [technology readiness level], proven components."
Walsh tells FlightGlobal that by using such commercial off-the-shelf technology and drawing on the partners' experience with the K-Max Titan, Kaman could be in a position to launch production within two years and commence operational deliveries just three years later. "We've got the right capability, and the right partner," he says.
Although the USMC has no stated requirement for an autonomous medium-lift cargo capability, Walsh notes that the company is working with the service to help define its future needs. "The timing could not be more perfect. This is something that they need, and they need it soon."
Referring to the likely cost of such a system, he says: "We're really trying to be almost a kind of jaw-dropping price point, where people say 'holy cow'.
"We're not carrying people; we're carrying things. We're not trying to solve something that's unsolvable: we're trying to solve the problem that sits right in front of us."
Meanwhile, Walsh says Kaman's technologies are increasingly attracting the interest of companies developing platforms for commercial applications such as air taxi tasks.
"We've already had calls from urban air mobility manufacturers, because of the rest of what we do as a company. We have a bearings business, a structures business and the ability within our own walls to do some amazing things not just for K-Max and Kargo.
"Our growth strategy is to have a family of vehicles and capabilities that includes military and commercial," he notes, pointing to potential future opportunities with major cargo logistics operators.