Kawasaki is promoting its C-2 transport to the international market, as it eyes global opportunities for its twin-engined airlifter.
The Japanese company has a relatively large presence at this year's Dubai air show, with a Japan Air Self-Defense Force C-2 having appeared on static in 2017 and 2019.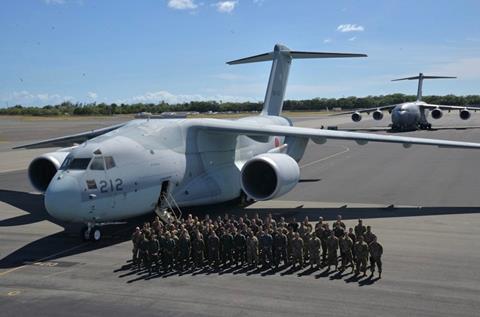 The aircraft has a maximum take-off weight (MTOW) of 141t, which places it roughly between the Lockheed Martin C-130 and out-of-production Boeing C-17.
The C-2 can carry 110 personnel using seats along the fuselage wall and with a central bank of seats. When not being used, the centre seats can be stored in the forward cargo compartment or on the cargo ramp. The company boasts that it has the more space between seats than other transports.
Powered by two GE Aerospace CF6 turbofans, the C-2 offers a maximum cruising altitude of 45,000ft and can fly at Mach 0.8 – considerably higher and faster than turboprop-powered transports.
A company brochure shows that an aircraft departing from Riyadh can carry a 32t payload as far as the Nordic countries, and a 20t payload as far as Southeast Asia.
The aircraft can be refuelled via a boom. Its fuel tanks have explosion suppressant foam.
"When there is a possibility of being shot, the aircraft is operated with the centre tank empty," says Kawasaki.