The Korea Aerospace Industries (KAI) KF-21 fighter has commenced weapons release work, including firing its cannon during flight.
The work saw the second prototype of the developmental aircraft drop a dummy round of the MBDA Meteor beyond-visual-range air-to-air missile, according to South Korea's Defense Acquisition Program Administration (DAPA).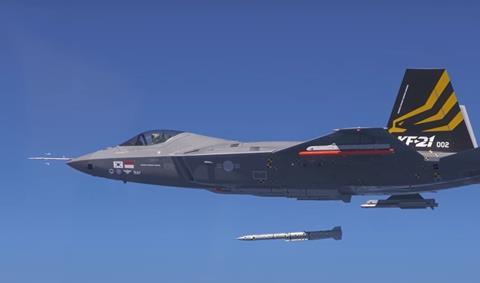 DAPA indicates that the tests took place over the "South Sea" – South Korea's name for the East China Sea.
In addition to wing hardpoints, the KF-21 carries four Meteors in recesses under its fuselage.
The third prototype has also tested the fighter's General Dynamics M61A2 20mm Gatling gun. According to General Dynamics, the KF-21 carries 270 rounds, and the six-barrel M61A2 has a cyclic rate of 600 rounds per minute.
DAPA published a video of the testing work on its YouTube channel.
DAPA says the tests look for any changes that might occur in the airframe, engine, or aerodynamic characteristics when using weapons.
Future tests will involve short-range air-to-air missiles as well as more gun tests to be conducted at a variety of altitudes and speeds.
The KF-21 programme continues to move forward, with the type's prototype fleet continuing to rack up milestones.
In late February, the fourth prototype – and the first two-seat KF-21 – conducted its maiden sortie. The prototype fleet will be completed in 2023 with the addition of the fifth and sixth test aircraft, the latter is also a two-seater.
In January, the initial prototype broke the sound barrier – a first for the programme.